By Kathleen Marincic
West Side Market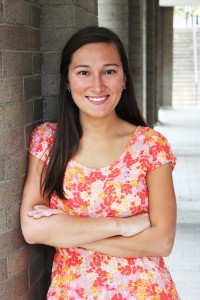 Storytelling is something I have always been passionate about. I love recounting events in as much detail as I can, hoping to prompt a few laughs and share nice memories with those I encounter. Stories help define us, give meaning to context and connect generations. I decided to major in public relations for that exact reason: to help brands communicate their stories to their customers.
My passion for the city of Cleveland matches the love I have for storytelling. That's why a marketing internship with the iconic West Side Market seemed like a perfect fit: It brought together the best of both worlds.
My responsibilities for the Market are meaningful. They include developing a social media packet for vendors to use as a guide when branding themselves on social media, creating content for a bimonthly newsletter that reaches an audience of more than 5,000 people and managing the Market's social media presence on Twitter, Facebook and Instagram. One day, I even traded in my desk at the office for a stand inside the Market and sold West Side Market apparel and accessories.
In addition to these responsibilities, I have been gathering and inputting vendor information and pictures on the Market's new website, which will launch at summer's end.
In today's world, it's easy to create a form that can be sent via email and filled out electronically in order to collect information needed for the website. In fact, it's second nature. However, I learned early on that most Market vendors do not communicate that way. They do not have email that they check every day or cellphones attached to their hips. Market vendors prefer the old-fashioned ways, believing in face-to-face communication and paper copies.
Their mentality has forced me to adapt my usual tech-savvy ways of communicating and, although it has been challenging at times, I have to admit it is a refreshing change of pace.  Nothing can beat face-to-face communication, especially in a place filled with as much history as the West Side Market is. Getting the opportunity to talk with the vendors and listen to their stories of how their stands came to be fills me with nostalgia as I walk through the always-crowded aisles.
This internship with the West Side Market, through the Cleveland Foundation, has reinforced my love for my city and storytelling, as well as confirmed that I'm doing exactly what I should be doing.
Kathleen Marincic is a junior at Ohio University, majoring in strategic communications.