Get on Your Bikes and Ride…To Work!
Alarm goes off at 6 a.m., hit snooze, roll over, pull covers over your head. Jump in the shower, brew a cup of joe, pour some cereal, grab your keys and prepare yourself for stop-and-go traffic, crazy morning drivers, spilling your coffee on that wrinkled white shirt, and don't even get me started on trying to find a parking spot!
Everyone has their morning routine, but what if there was a way to cut down on the stress and hassle of just getting to work? Even in Cleveland, it can be done. Bike Cleveland's monthly Bike to Work Day encourages Clevelanders to swap their keys and steering wheels for a helmet and handlebars.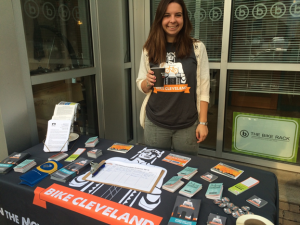 As the summer intern at Bike Cleveland, I am in charge of planning and implementing the monthly Bike to Work Day Events. After successfully hosting June's Bike to Work Day, I could not wait to begin planning the next Bike to Work Day in July with some new changes. I wanted to switch up the food and coffee and give other Cleveland venues a try. I also wanted to begin promoting the event two weeks before to ensure cyclists had time to plan their route. In addition to promoting the event on social media, I wanted to get the attention of the Cleveland media. I wrote a press release and sent it out to various media outlets including news stations and the press. Finally, I want to creatively support and promote Bike to Work Day so I created a daily "I Bike Because" profile series to post one week prior to the event.
Planning an event like Bike to Work Day has taught me the importance of timing, communication, and the power of some good weather.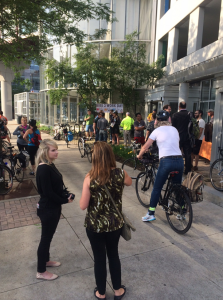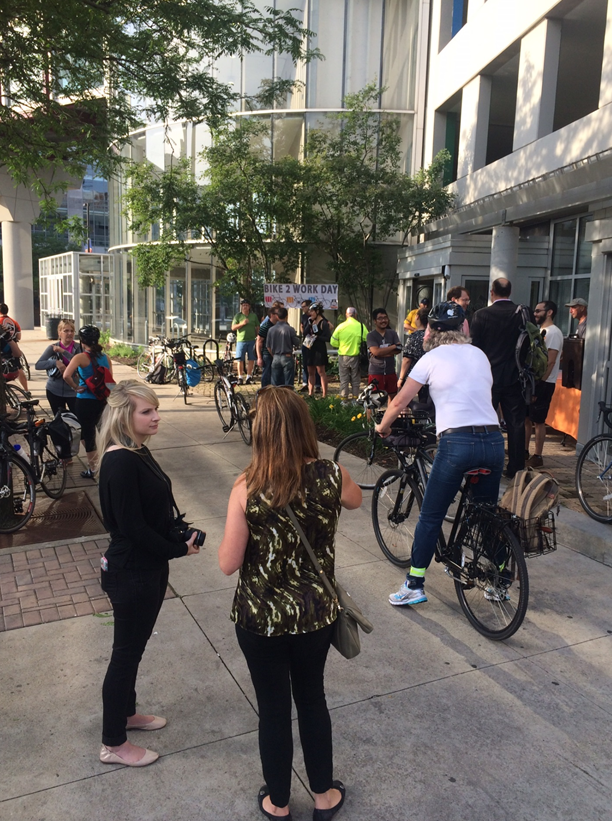 Through this internship experience, I have come to discover the real payoff of seeing an event that I created, implemented, and planned come to fruition as I watched avid cyclists enjoy breakfast and good company early on a sunny Friday morning.
My overall goal is to make Bike to Work Day more than a day when you get free breakfast, (although that is a perk!) Bike Cleveland is creating infrastructure, implementing projects, and pushing legislation that is transforming Cleveland into a bike-friendly city. I hope that Bike to Work Day becomes more than a monthly venture and becomes as natural as making a cup of coffee in the morning as it slowly creeps into our daily routines one gear change at a time.
Want some more information on Bike to Work Day? Check out the Facebook event page, and give the Bike Cleveland Website a look!
Mary Ellen Riley, a junior at John Carroll University, majoring in Communications and Integrated Marketing, will be placed at Bike Cleveland. Mary Ellen is responsible for developing an outreach program that supports and engages commuters in Bike Cleveland's events and programs. She is also developing an outreach program through local bike shops that supports and engages cyclists in Bike Cleveland's membership, events and programs.