It's official – we're excited to introduce the inaugural cohort of Cleveland Foundation Public Service Fellows! After a nationwide search that attracted 110 applicants from 19 states and 50 universities, nine recent college graduates were selected. Beginning in September, the fellows will be paired with six Greater Cleveland public sector and nonprofit agencies, including two fellows who will be hosted here at the foundation, for year-long paid fellowships funded by the foundation and agency partners. Meet the fellows and learn about the exciting roles the foundation and our partner agencies have developed for them:
Kathleen Brennan – Supporting community-police relations in Cleveland (Cleveland Foundation)
Brennan is a 2015 University of Notre Dame graduate in Sociology and currently is finishing her master's degree in Conflict Transformation and Social Justice at Queens University Belfast in Northern Ireland. A Strongsville, Ohio native, Brennan's placement at the Cleveland Foundation will be focused on supporting the Cleveland Community Police Commission's work to strengthen community-police relationships.
Roberta Duarte – Improving cultural competence in patient care at Cleveland's public health system (MetroHealth)
Duarte, a native of Paraguay, is a 2016 graduate of Mount Holyoke College in Global and Public Health Sciences. At MetroHealth, Duarte will work with senior leadership and a cross-functional implementation team on population health initiatives that will address social determinants of health in Cuyahoga County and bolster the cultural competence of MetroHealth staff.
Joshua Edmonds – Developing a new vision for one of the nation's largest public housing authorities (Cuyahoga Metropolitan Housing Authority – CMHA)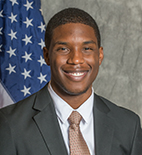 Edmonds is a 2014 graduate of Notre Dame College in English and Spanish and this year earned his master's degree in International Relations and Public Policy from Howard University. Originally from Twinsburg, Ohio, Edmonds will focus on the finalization and implementation of CMHA's first new strategic plan in 20 years.
Tabitha Gillombardo – Shaping the region's transportation infrastructure for the Cleveland of tomorrow (Northeast Ohio Areawide Coordinating Agency – NOACA)
Gillombardo is a 2016 graduate of Wesleyan University in Government and Middle Eastern Studies. A native of Shaker Heights, Ohio, Gillombardo will help create NOACA's new long-range transportation plan, which will shape the development of the Greater Cleveland transportation system for the next two decades.
Ricardo Mason – Implementing a new county-wide culture of innovation (Cuyahoga County's Office of Innovation & Performance)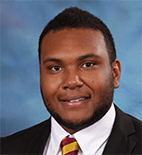 Mason is a 2015 graduate of Kent State University (KSU) in Healthcare Administration and is currently working on his master's degree in Health Policy & Management from KSU. Originally from Euclid, Ohio, Mason will join a Cuyahoga County team tasked with leading the implementation of internal and external innovation plans, with a goal of creating a center of excellence that will serve as a model for counties across the nation.
Takasha Nutall – Incorporating City Council's new Civitism agenda (Cleveland City Council)
Nutall is a 2016 graduate of Spelman College in Political Science. During her fellowship, she will focus on Cleveland City Council's new policy agenda called "Civitism," or love of place. Nutall will work with the council president and committee chairs on incorporating the new platform throughout the Council's 11 committees, which each address separate legislative priorities. She is a native of Chicago, Illinois.
Olivia Ortega – Addressing one of the nation's highest rates of infant mortality and lead poisoning (Cleveland City Council)
A Newark, Ohio native, Ortega is a 2016 graduate of Case Western Reserve University in International Studies, Political Science and Spanish. She will also work with Cleveland City Council on its new policy agenda, "Civitism," and will work with the council president and committee chairs specifically on the Council's public health initiative, centered on addressing infant mortality and lead poisoning.
Hannah Santisi – Increasing access to mastery-based arts for Cleveland youth (Cleveland Foundation)

Santisi is a 2015 graduate of Oberlin College and Conservatory in Sociology and Viola Performance. She currently serves as Program Director for the nonprofit, Make Music Cleveland. In her fellowship role, Santisi will focus on the Cleveland Foundation's new arts strategy to increase access to mastery-based arts to all youth in the city of Cleveland and will also support foundation projects in the areas of arts, culture and placemaking. She is a native of Montclair, New Jersey.
Eli Stacy – Helping residents in public housing become more financially self-sufficient  (CMHA)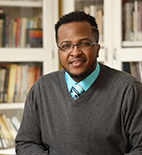 Stacy is a 2016 graduate of the University of Virginia in Sociology. At CMHA, he will serve as the onsite program facilitator for the Jobs Plus initiative, which works to help residents become more financially self-sufficient. Stacy grew up in Virginia Beach, Virginia.
Congratulations to all nine fellows! We're thrilled to welcome such a talented group, and look forward to following their work beginning in September. Learn more about the fellowship here.