During orientation, Cleveland Foundation Program Officer Stephen Love cautioned the 2016 summer intern cohort about how quickly our internship experiences would fly by. He was right. Six purposeful weeks are behind us already and here we are, thoughtfully completing our midterm evaluations and contemplating how to wring the most value, experience, and enjoyment out of the five precious weeks that remain. In reflecting on my placement with the AIDS Funding Collaborative (AFC), I feel incredibly gratified to have spent the past six weeks contributing to work that's personally meaningful.
The AFC is a public-private partnership that strengthens the Greater Cleveland community's response to HIV/AIDS through coordination, leadership, advocacy and funding. The majority of my work has been focused on wrapping up our 2015-16 AIDS United AmeriCorps Program; preparing for our annual responsive grantmaking cycle; and researching HIV/AIDS-related policy, including syringe exchange programs (SEPs), decriminalization of HIV, and sexual health education curriculum in Cuyahoga County school districts.
Working in this field serves as a reminder that HIV is still an epidemic, one that wasn't left behind in the 1980s or '90s. Even so, we envision a future in which HIV is eradicated – and theoretically, it's possible. In order to make this vision a reality, the AFC and other stakeholders rely heavily on high-impact, strategic approaches in the National HIV/AIDS Strategy (NHAS). The overall goal of these approaches is to eliminate HIV transmission through diagnosis, linkage and retention in care, and viral suppression. Through my experience at AFC, I've realized that effectively addressing a large, complex public health issue such as HIV/AIDS requires strategic prioritization and coordination, especially with wraparound service providers. From the folks who facilitate SEPs, to those working to prevent youth homelessness or challenge the residual stigma surrounding HIV/AIDS, there are many roles involved in the comprehensive effort to reduce HIV transmission and eradicate the virus.
With the AFC primarily functioning as a grantmaking body, I've gotten a behind-the-scenes look at the role and work of funders, including leading technical assistance meetings, processing grant applications, and determining which organizations get funding and why. In the AFC's desire to grant organizations what they need while also being intentional with their grantmaking, there's room for creative problem-solving and collaboration. It's an incredibly thoughtful process, and one that rounds out my previous experience working from a grantee position. The insights and experiences I've gained in my first six weeks at AFC have unearthed a passion for – and possible career ambition in – the field of public health, while fostering a greater love for my Cleveland community and understanding of the power of philanthropy – revelations I'm sure will only deepen over the course of the next five weeks.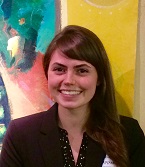 Marissa-Ann Pappas, a senior at Cleveland State University double majoring in Nonprofit Administration and Women's Studies, is placed at the Center for Community Solutions AIDS Funding Collaborative (AFC). Marissa leads planning and coordination ahead of the AIDS Funding Collaborative' s AmeriCorps Service cohort, a national AmeriCorps program focused on filling gaps and building capacity in the HIV/AIDS service community.  Marissa also assists with AFC's grantmaking cycle.