Commitment to a short-term opportunity can often lead to the achievement of long-term goals. This ideology is exemplified by organizations like the Cleveland Housing Network (CHN). CHN is a not-for-profit organization working to build strong communities through affordable housing in the Cleveland area. CHN's housing model includes a 15-year lease-to-purchase method to home buying. Through a commitment to the short-term opportunity of leasing a home, low-income families can achieve their goal of becoming home owners by purchasing their home at the end of the program.
CHN applies the same ideology to the youth residents living in CHN housing. This summer, I have had the privilege of working with the Youth Services Department at the Cleveland Housing Network. Though I knew the job description coming into the internship, I did not know what kind of experience to expect. I would have to set a precedent by putting together CHN's first Youth Expo and Youth Newsletter. Each summer, CHN, in conjunction with Youth Opportunities Unlimited (Y.O.U.), runs a summer jobs program for the youth residents it serves. This year, nearly 70 youth residents participated in the summer jobs program that included working at a host organization for six weeks. The theme of the summer jobs program aligns with that of CHN; with a commitment to a short-term opportunity of employment, youth residents can gain the work experience and possibly achieve full-time positions with their host organizations. Typically, the program concludes with a cookout or celebratory picnic. This year, CHN decided to create an even more meaningful ending to the program with a Youth Expo.
The first annual Youth Expo featured representatives and recruiting officials from nearly 20 different employers, colleges, trade schools and community organizations. Youth residents also had the opportunity to register to vote, sign up for a library card and receive free HIV testing. The summer jobs program was successful for a number of youth residents, as some were offered positions to continue working at their host sites after the conclusion of the program. These success stories embody what it means to take advantage of short-term opportunities to attain long-term goals. The Youth Expo will continue to grow in the coming years and I am proud to have played a role in its inaugural year.
Now that the Youth Expo is finished, my attention is focused on creating the Youth Newsletter. As a professional writing major at Capital University, I have taken courses related to tasks such as creating newsletters. Consequently, these last two weeks will serve as an opportunity for me to take what I learned in the classroom and apply it in the professional world. The Youth Newsletter, which will feature the summer jobs program and success stories, is scheduled to be released on August 10, 2016.
I am grateful for the experience I have had working with the youth residents striving to achieve their financial, career, and life goals. I gained valuable experience witnessing firsthand how a nonprofit like CHN operates. This internship has played a significant role in my development as a professional and I look forward to seeing what the final two weeks have in store for me.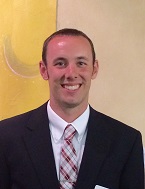 Scott King, a graduate of Capital University with a major in Professional Writing and minors in Creative Writing and Marketing, is placed at Cleveland Housing Network.  Scott assists with coordination of CHN's summer youth employment program across 65 external employment sites and assists with coordination of Youth Opportunities Unlimited Green Job Training Placement Program and Youth Employment Expo.