In a year when partisan politics dominated the headlines, the Cleveland Foundation – in partnership with The City Club of Cleveland, Cleveland Young Professional Senate, Neighborhood Connections, ideastream and Crain's Cleveland Business – launched a yearlong series of events to convene Greater Clevelanders in civil conversations focused on community issues. The goal: to bring area residents to the table and challenge them to participate in the process of improving our region.
We kicked off the series in March with the Greater Cleveland Caucus Town Hall Meeting on Community Solutions, an event that drew hundreds of residents, along with representatives from more than 70 local nonprofit organizations, to discuss key issues impacting our region and put forth community priorities. Attendees heard local leaders deliver thought-provoking TED-style talks on eight caucus topic areas including Education + Youth Development, Environment, Health, Housing + Neighborhoods, Inclusion: Population + Demographics, Jobs + Economy, Safety, and Transportation + Infrastructure. Following the talks, attendees discussed and voted on community priorities in the caucus topic areas. Watch the talks and other event highlights here.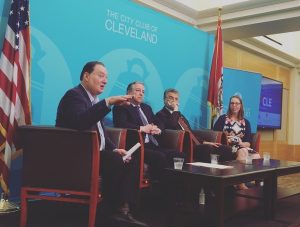 In May, we joined emerging community leaders at YPCLE: The Millennial Caucus to discuss the next generation's role in making progress in each of the eight caucus topic areas. A panel of current leaders including Cuyahoga County Executive Armond Budish, City of Cleveland Mayor Frank Jackson and our President & CEO Ronn Richard shared wisdom and advice for young professionals and discussed key issues for the future of our region. Watch highlights from the panel discussion here. Attendees then brainstormed solutions to questions like, "how can we encourage millennials to move from renters to homeowners in the City of Cleveland?" and, "how can we promote a welcoming environment to attract and retain immigrants to Greater Cleveland?"
Next, the Crain's Women of Note Summit & Awards: The Women's Caucus sparked discussions about issues that matter to women in Greater Cleveland. Facilitated table discussions promoted networking and dialogue around topics ranging from financial empowerment to community action. The Greater Cleveland Purpose Expo at the summit gave attendees an opportunity to connect with a variety of local nonprofit organizations to take action on the issues they care about.  
Finally, Desserts & Debate: The Greater Cleveland Caucus Debate Watch Party brought area residents together for a nonpartisan political panel discussion followed by a live stream of the first presidential debate. The panel of local political experts provided commentary on the election cycle and took questions from members of the audience. Watch highlights from the discussion here.
Thank you to the 1,600+ Greater Clevelanders who joined us at Caucus series throughout the year. We hope these vital conversations will continue as we work together to strengthen our community for all residents.