As our Creative Fusion: Cuba Edition residency continues, the work of visiting Cuban artists and their local collaborators is leaving its mark on our city. Learn about some of the exciting collaborations that have already taken place, and others still on the horizon:  
Verb Ballets x Laura Alonso 
Earlier this spring, Cuban ballet legend Laura Alonso spent two months in Cleveland in residency with Verb Ballets. While in Cleveland, Alonso taught ballet four days each week, bringing the Cuban Syllabus – a unique process of ballet instruction invented by Alonso's father – to local dancers. Laura also staged the Don Quixote Grand Pas de Deux, which was performed by Verb Ballet dancers at Verb's 30th Anniversary Celebration and at the Cleveland Foundation's 2017 Annual Meeting.
 DANCECleveland x Malpaso Dance Company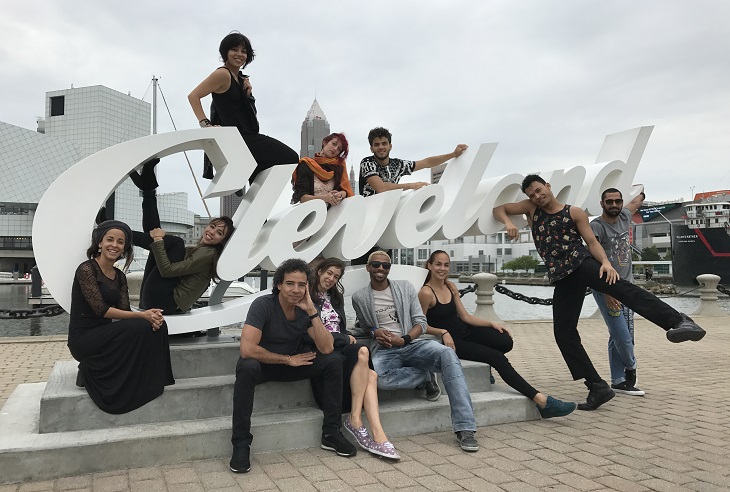 In early June, Malpaso Dance Company spent nearly 2 weeks in Cleveland for their residency with DANCECleveland. While in town, Malpaso delivered two outstanding performances to sold-out crowds at Playhouse Square's Ohio Theatre. The performances featured a new work titled Indomitable Waltz, choreographed by Aszure Barton and co-commissioned by the Cleveland Foundation and DANCECleveland. In the days following their Playhouse Square shows, Malpaso collaborated with Cleveland State's Dance and Theater Department to present workshops and informal performances for the community.
CUDC x Ernesto Jiménez + Sofia Marques de Aguiar
In June, international architects Sofia Marques de Aguiar and Ernesto Jiménez came to Cleveland for a month-long residency with the Cleveland Urban Design Collaborative (CUDC). Sofia and Ernesto worked with architecture, urban design and landscape architect students from Kent State and interior architecture students from the Cleveland Institute of Art to revitalize and re-imagine two vacant properties in Glenville that will house artists for the FRONT International: Cleveland Triennial for Contemporary Art next year. 
Cleveland Print Room x Pilar Rubi
After hosting Cuban multidisciplinary artist Sandra Ramos in March, the Cleveland Print Room has welcomed a second Cuban artist – photographer Pilar Rubi – for a residency in June. Pilar is working with local photographer Greg Martin on a wet plate collodion photo project in Cleveland. Pilar and Greg have visited Cleveland Public Square to take collodion portraits of people there, and will travel to different locations in the city to create more images in the coming weeks. Don't miss their artist talk, 11 a.m. – 1 p.m. on June 24 at the Cleveland Print Room!
CAN Journal x Laura Ruiz Montes
During her residency with CAN Journal this spring, Cuban literary artist Laura Ruiz Montes immersed herself in researching and writing about the experience of Caribbean and Latino artists in Cleveland. Laura's essay, a culmination of this work, will be published in the Fall 2017 edition of CAN Journal, which will become available in August. Laura also connected with the local literary publishing community in Cleveland. An exhibition of artist books of Ediciones Vigía, the artisanal editorial house of which Laura is chief editor, was on display at Waterloo arts in April and May.
CLE x HAV Coming Soon:
Sandra Ramos will return to Cleveland in September for part two of her residency with the Cleveland Print Room. CPR plans to present an exhibition of work by Sandra Ramos, Pilar Rubi, Greg Martin and other Cleveland photographers in the fall.
In September, Cuban jewelry artist Yasniel Valdes will begin a residency at the Cleveland Institute of Art (CIA) working with Matthew Hollern, professor of Jewelry + Metals at CIA, and CIA students.
Follow #CLExHAV and #CLEvana on social media for the latest news from Creative Fusion: Cuba Edition!