Our #SummerOfPurpose blog series follows this year's Cleveland Foundation Summer Interns as they spend 11 weeks working with Cleveland-area nonprofit and public sector organizations. In today's blog, we hear from Morgan Mackay, who is working with WomenSafe, Inc. where she develops marketing strategies for the agency, implements community outreach efforts through events and social/print media, and provides support for the summer fundraiser.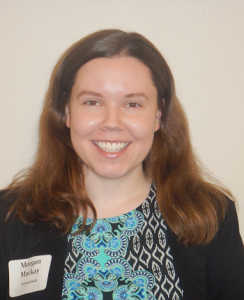 Morgan Mackay
College: University of Rochester
Hometown: South Euclid, OH
Internship Host Site: WomenSafe, Inc.
Why did you initially decide to participate in this internship program?
It sounded perfect for me – a rising senior with majors in psychology and business who had yet to have an internship. At the time, I didn't know what I wanted to do with my career, I just knew I wanted to serve people. With underlying knowledge of both people and business, this internship appeared to combine both my areas of interest into one complete package. Thus, I participated and have not regretted it once.
What has been the most valuable aspect of your internship experience, or what are you most looking forward to?
Aside from the camaraderie with my fellow interns, the most valuable aspect of my internship experience has been learning just how important donors are to a nonprofit. While yes, I always knew their role existed in the organization, I never had the epiphany that without donors, nonprofits couldn't exist. And thus helping people, which I love so much, also couldn't exist.
I was lucky enough to have the opportunity to attend a course at the Cleveland Foundation presented by Giving USA, an organization that compiles and publishes all of the charitable donation amounts each year. There, I learned that religion has always been the top recipient for charitable donations, which should not have surprised me – but nevertheless did. I am interested in seeing how my generation will affect charitable donation trends in the future.
What has been the most challenging aspect of your internship experience, and what skills are you hoping to develop through this experience?
After several marketing group projects in college, I will have the chance to further develop my marketing skills by creating my own marketing plan. Within the coming weeks, I will be designing a plan for Domestic Violence Awareness Month, which occurs in October. Already, I have created several flyers, raffle ticket designs, and social media posts. By the end of the summer, I hope to have developed a decent portfolio of marketing materials.
With the social media posts, I hope to learn how to effectively inspire an online audience to become educated about the cause and involved with the cause (e.g., donating, volunteering).
What are your career goals after college?
After college, I aspire to attend law school in the Cleveland area. I want to become a lawyer and represent underrepresented groups in the courtroom.
How has this internship helped you grow professionally?
This internship is teaching me the importance of small talk, which, before this internship, I had enthusiastically disliked. It's not that I hate people or talking to people; it's actually the opposite. I want real, deep conversations that don't typically occur upon first meeting someone, or even with an acquaintance. Alternatively, I'll also take humorous back-and-forth banter sprinkled with sarcasm. However, at a nonprofit small talk is essential to building relationships. Thus, I hope to develop this skill to grow professionally. How can I just walk up to a group of strangers and start talking? What should I talk about? Then, how can I convert this stranger to be a supporter of my cause?
How has this internship helped you grow personally? 
I learning how to effectively balance work and fun. Instead of napping when I get home, I go for a run or ride my bike around South Euclid (I haven't jogged willingly since high school). I've also become an avid smoothie-maker since work started, and I have even studied more for the LSATs than I ever had before. I attribute all of this to my transition into the working world at a nonprofit that gives back so much.
What's your favorite public space in Cleveland?
Public Square is my favorite public space in Cleveland. Last year's renovations have improved the space so much, making room for cool events and attractions – like ice skating in the winter and the fountain space in the warmer months.
Where would you take a friend who is visiting Cleveland for the first time?
In this day and age, most millennials didn't really go somewhere unless they post on social media about it. As much as I hate this gross generalization, I succumb to it as well, and so would most of my friends. Birds of a feather flock together, huh? Thus, I would take my friend to one of three locations: Voinovich Park, Edgewater Park, or Tremont. If you are a Clevelander, you should know this. All three are the locations of the white Cleveland signs that provide postcard-perfect images. #ThisIsCLE.  
Yes, this answer is a cop out, but how can I choose just one place to explore? Every part of Cleveland is important and I am fortunate to call it my home.
What advice would you give to someone considering applying for the Cleveland Foundation Summer Internship Program?
Be yourself in the interviews, but be prepared. Have answers ready for questions like why you want this internship, how you would be a good fit for a specific host site, and what skills you are bringing to the table. Aside from that, just do it. What's there to lose?