Our #SummerOfPurpose blog series follows this year's Cleveland Foundation Summer Interns as they spend 11 weeks working with Cleveland-area nonprofit and public sector organizations. In today's blog we hear from Hannah Feldman, who is working with Global Cleveland, where she develops content and resources to share with Northeast Ohio employers, international job seekers, and international students and implement more streamlined processes for Global Cleveland to connect international job seekers to local opportunities.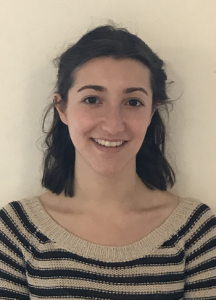 Hannah Feldman
College: Tufts University  
Hometown: Beachwood, Ohio
Internship Host Site: Global Cleveland
Why did you initially decide to participate in this internship program?
I chose to participate in this program because I was so impressed with the scope of nonprofit host sites they were offering for the interns. I felt confident that I could have room to grow and learn at any of these organizations, although Global Cleveland does now have a special place in my mind!
What has been the most valuable aspect of your internship experience?
Global Cleveland is unique because it serves as a sort of hub for Cleveland's international communities, and getting to be at the center of so much growth and innovation has been an extraordinary experience. I love that on any given day, I can spend my morning welcoming newly naturalized citizens to Cleveland at the courthouse, my afternoon in meetings with Cleveland's top entrepreneurs and developers, and in the evening attend a networking event with Friends of Global Cleveland – a group for young professional international newcomers!
What has been the most challenging aspect of your internship experience?
As you can already tell, there's always a lot going on! It's really wonderful to have so many opportunities, but it also means that time management and prioritization are key. Having a busy schedule is never an excuse for missing a deadline, so it takes some extra mindfulness and skillful juggling to get everything done!
What are your career goals after college?
As an English and Political Science double major, my post-grad career path is pretty open-ended, which is something that I've really grown to appreciate. Ideally, I'd love to use both sides of my education – maybe in the nonprofit sector, by using books and language to empower underserved and marginalized communities.
How has this internship helped you grow professionally?
This internship has really helped me learn what it means to look for a positive work culture. I've grown to appreciate the value of an organization that takes the time to sit down with people and really hear them out, whether they're a business executive, a new community member, or an intern!
What's your favorite public space in Cleveland? 
I love the Cleveland Public Library – it's such a beautiful combination of new and old, and the outdoor space connecting the two buildings is so peaceful in the summer. I also love the Cleveland Metroparks; Squire's Castle is beautiful in every season!
What advice would you give to someone considering applying for the Cleveland Foundation Summer Internship program?
Internships are a tricky beast to tackle. You want freedom to work in your own space and grow, but also some structure and guidance. This program will help you strike that balance – you'll have an internship cohort for support, the Cleveland Foundation for professional guidance, and a plethora of internship sites to choose from that will help you find your professional passion! Essentially, this is a rare space created just for people looking to find their career path while doing meaningful and engaged work.