The Cleveland Foundation Public Service Fellowship offers emerging young leaders the skills and networks needed to create the community they envision and jumpstart a career in public service. In our #FellowFriday weekly blog series, hear from members of the 2016-17 Cleveland Foundation Public Service Fellowship cohort about their year-long experience working and living in Cleveland.
Katie Brennan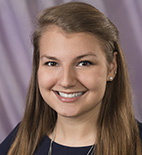 College: University of Notre Dame (BA); Queen's University Belfast (MA)
Hometown: Strongsville, Ohio
Fellowship Host Site: The Cleveland Foundation (staffing the Cleveland Community Police Commission)
How did you first hear about the Cleveland Foundation Public Service Fellowship and why did you decide to participate?
My mom told me about the fellowship, which she had learned about through a friend. I was out of the country at the time, but had a goal to return home to Cleveland after 5 years at university and graduate school. It seemed like the perfect opportunity. So, from Northern Ireland, I rushed to complete an application.
I have always cared about the Cleveland community and wanted to give back to the place that gave me so much. I was completing my MA in Conflict Transformation & Social Justice, and public service seemed like a logical next step. I was excited to pursue this opportunity and even more excited to take part once the foundation created my specific position based on my thesis research on Cleveland's police reform process. I had also been in a program with a tight-knit cohort in my undergraduate career (the Hesburgh-Yusko Scholars Program) and knew the benefit of learning from peers as well as receiving mentoring from those with more experience.
What has been the most valuable aspect of your fellowship experience?
This has been an incredible learning opportunity all the way around. I feel that I have grown so much as a person and gained so many new skills in my work for the Cleveland Community Police Commission. There have certainly been a great number of challenges, but I take all of those as new ways to learn and grow and position myself to be a better employee in the future. However, I have been able to face these challenges while having an unmatched support system within the Cleveland Foundation, the fellowship team, and my fellow fellows.
When you're not working, what do you enjoy doing around Cleveland?
When the weather is nice, I love walking around the beach, particularly at Edgewater Park. I also very much enjoy exploring the culinary scene in Cleveland, as we have so many fantastic restaurants in the city. It has been exciting to see the revitalization of Cleveland and discover places around the city that I never did growing up—Public Square, Edgewater Park, and Ohio City are particular places that have evolved so much and that I enjoy frequenting.
What's your favorite Cleveland restaurant, and what dish do you recommend there?
Mason's Creamery on Bridge Avenue has a monthly Pop-Up Ramen shop. Another Public Service Fellow, Hannah Santisi, introduced it to me early on in our fellowship. The ramen is incredible (they offer pork miso and a vegetarian option) and you can get ice cream while waiting in line. I want to share it with everyone because it's such a great meal, but I also don't want it to get too popular—the lines are already extremely long and it's first-come, first-served! So everyone should check that out…but after I get my ramen. ;)
What's your favorite public space in Cleveland?
Call me grim, but my favorite part of Cleveland is Lake View Cemetery. I like to take friends—both from out of town and from Northeast Ohio—to the cemetery because there's so much history and beauty there. I think it's a shame we don't talk about the cemetery more—it's a nice park that just happens to house hundreds of bodies, including those of President Garfield and John D. Rockefeller!
Where would you take a friend who is visiting Cleveland for the first time?
Assuming the weather is nice, I would start the day at Lakeview Cemetery (nothing says 'Welcome to Cleveland!' like the reminder of human mortality). I'd then take my friend to the Cleveland Museum of Art and grab lunch in Little Italy. After that, I'd transition to downtown Cleveland, show them where my office is (in Playhouse Square) and talk up the fact that we have the 2nd largest theatre district in the country next to Broadway. Then I'd grab smoothies at Restore and hang out in Public Square for a while. Next, I would head west to Ohio City, explore the West Side Market for a bit, show them Saint Ignatius High School (my dad has taught there my whole life and for the past four years I've taught an Irish Studies course there), grab dinner somewhere on West 25th and end the day playing board games at Tabletop Board Game Café on West 25th.
Why would you recommend this fellowship program to others?
I cannot say enough good things about this fellowship program. Between the unparalleled professional opportunities and experiences, the networking opportunities, built-in professional development, year-long mentoring, and a fantastic support system from both Cleveland Foundation staff and the fellowship cohort, I cannot imagine a better first step for anyone to experience in their careers.
If you're interested in learning, growing, and putting yourself in a better position for a career in the public sector (or even philanthropy or the nonprofit sector), take advantage of this opportunity and apply!
Want to learn more about the Cleveland Foundation Public Service Fellowship? Find details about the program and application process here, and sign up to receive email updates about the fellowship program here.