John Hay graduate Brinden Harvey has big dreams to share his art with the world, and to help others do the same. Now a student in Baldwin Wallace University's theatre program, Brinden is well on his way to realizing his dream – and a scholarship through the Cleveland Foundation has helped him along the way. In this Q&A, Brinden shares his experience: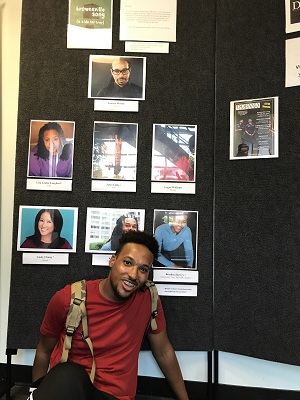 Brinden Harvey
School: Baldwin Wallace University 
 Field of Study: Pursuing bachelor of fine arts in acting with a minor in mass communication and broadcasting
Hometown: Cleveland, OH
How did you first hear about scholarships available through the Cleveland Foundation?
At John Hay we have an amazing College Now department. They told every student about available scholarships at the Cleveland Foundation and guided us through the application process.
Tell us about your experience in school so far
The experience I'm having is magical. From riding the RTA rapid, staring out the window and dreaming about performing, to be here [in the Baldwin Wallace fine arts program] is a dream come true. I have performed in numerous shows this semester, from the equity theatre Dobama's "Brownsville Song (B-Side for Tray)" to being in a lead role in the upcoming Baldwin Wallace spring show "A View from the Bridge." There have been days on campus where I've had three back-to-back performances for different classes and occasions. It's been hard work, but the hard work definitely pays off. This school is challenging and crafting me into the artist I've always wanted to be.
What are your goals for the future?
I am constantly writing and creating content. One day I plan to have my own show or movie that I helped create. Another goal is to audition and make it onto Broadway one day. However, my favorite goal is – after I have established my career – to give back to my community by setting up a place [in Cleveland] for tomorrow's artists to learn, grow and spread their wings. I want to deliver art into the world and then show others how to do so. But my first step is to master my craft, so until I do that I will remain the student.
How did this scholarship open doors for you?
I come from a place where money is not in excess. Every month is a constant battle to stay above water. Going to my dream college (BW has an amazing theatre program!) is not something I could have done without the help of this scholarship. People that fund scholarships through the Cleveland Foundation understand how many young boys and girls want something so badly, but have financial barriers holding them back. This scholarship opened the door for me to pursue my dreams, and I'm grateful for that.
What advice would you give to someone thinking about applying for a scholarship from the Cleveland foundation?
When you need help, ask. Cleveland is lucky to have great foundations like the Cleveland Foundation that are here to help. You deserve an education and you have some big dreams to accomplish. Don't hesitate to vocalize what you want, because one day you will find someone who wants to help. Be honest, clear and patient about asking for financial support for college. They are looking for those who put their words where their heart is. So, no need to tell them anything but the truth about you – that's what they want.
Brinden's is one of many success stories tied to our scholarship program. If you or someone you know could benefit from a scholarship, be sure to browse the more than 64 scholarship funds available through the Cleveland Foundation. Thanks to the generosity of our donors, we've awarded more than $54 million from our scholarship funds since 1987. More information, resources and application instructions are available here.