Our #SummerOfPurpose blog series follows this year's Cleveland Foundation Summer Interns as they spend 11 weeks working with Cleveland-area nonprofit and public sector organizations. In today's blog we hear from Diamond Page, who is working with University Hospitals (UH) to coordinate its Community Health Needs Assessments and engagement activities.
Diamond Page
College: John Carroll University
Hometown: Cleveland, OH
Internship Host Site: University Hospitals
Why did you initially decide to participate in the Cleveland Foundation Summer Internship program?
I decided to participate in the internship to learn more about nonprofit sector; I wanted to learn about nonprofit jobs in the Cleveland area.
What has been the most valuable aspect of your internship experience so far?
The most valuable aspect of my internship so far has been the focus on various communities' needs in Ohio. University Hospitals' government relations department focuses on community benefit in all counties served by UH.
What skills are you hoping to develop through this experience, and how do you hope it will help you grow professionally?
I am hoping to enhance my communication skills during my internship experience. Also, I want to learn more about how we can help people through the community needs assessments. I hope this internship will help me grow professionally by making connections with people who have experience in my future career path.
How do you hope this internship will help you grow personally?
I hope this internship will help me grow personally by developing strong relationships with others and gaining experience.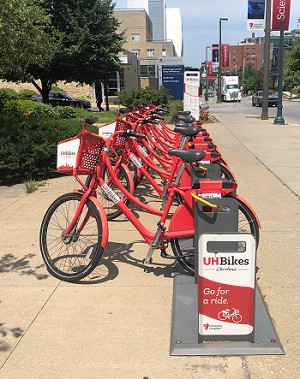 Where would you take a friend who is visiting Cleveland for the first time?
I would take him or her to Public Square because the scenery is beautiful and there is always something to do.
What are your career goals after college?
I'd like to be a counselor or social worker. However, I am thinking about other career paths in the nonprofit sector too.
When you're not working, what do you enjoy doing around Cleveland?
I enjoy going to community festivals and gatherings such as Wade Oval Wednesdays in University Circle. I also enjoy bike riding and I occasionally rent from UH Bikes.
What advice would you give to someone considering applying for the Cleveland Foundation Summer Internship Program?
I would advise someone who is considering applying to the Cleveland Foundation Summer Internship to be themselves and apply because they will benefit from this program.