Our #SummerOfPurpose blog series follows this year's Cleveland Foundation Summer Interns as they spend 11 weeks working with Cleveland-area nonprofit and public sector organizations. In today's blog we hear from Monica Fallon, who is working with Downtown Cleveland Alliance (DCA) as part of its special events team where she is developing, planning and implementing several key experiences including DCA's Giving Day, Fourth of July Party and SPARX City Hop Mural.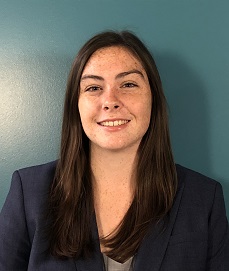 Monica Fallon  
College: University of Notre Dame
Hometown: Broadview Heights, Ohio
Internship Host Site: Downtown Cleveland Alliance
Why did you initially decide to participate in this program?
I knew that I wanted my summer internship to allow me to explore either the nonprofit or the public sector. The Cleveland Foundation internship was perfect insofar as it gave me the chance to explore the nonprofit sector in my hometown that I love.
What has been the most challenging aspect of your internship experience?
Having never worked a "9 to 5" office job, it has been challenging to learn the dynamics of the office. A skill that I have developed through necessity is that of learning when to ask questions versus when to make a decision on my own. My supervisor does not have time to answer all of my questions, so I often must decide if I can trust my own judgment. This has been a great chance for me to push myself outside of my comfort zone and to become confident in my decisions.
When you're not working, what do you enjoy doing around Cleveland?
I love going to Playhouse Square and seeing a play or musical (and getting dinner at a great restaurant beforehand is a must). I also enjoy exploring different parts of Cleveland with my friends; even though I've lived here for almost my entire life, there's still so much I haven't seen!
How has this internship helped you grow personally?
I interact with a lot of people while working at my job, mostly because I oversee every Memorial Monday (which is the smaller version of Walnut Wednesday). I ensure that the four food trucks have somewhere to park and are ready to sell food, and I often interact with the public in some way. Working at Memorial Monday has allowed me to meet and connect with a different group of people than I normally interact with, and it has been a huge blessing. By spending time with these people, who often have different life paths and opinions, I have been pushed to open my mind to new ideas.
What advice would you give someone considering applying for the Cleveland Foundation Internship program?
If you're looking for a hands-on experience in the nonprofit world, apply for the internship. I have already met some very influential and inspiring people who want to help others learn, grow and succeed. If you get this internship, I'm sure that you will have the same experience.