Our #SummerOfPurpose blog series follows this year's Cleveland Foundation Summer Interns as they spend 11 weeks working with Cleveland-area nonprofit and public sector organizations. In today's blog we hear from Lindsey Schneider, who spent her summer working at Cuyahoga Soil & Water Conservation District where she assisted in developing a "Greenprint for Public Involvement in Soil & Water Conservation," and analyzed various property features in Map Viewer. 
Name: Lindsey Schneider
College: George Washington University
Hometown: Strongsville, OH
Internship Host Site: Cuyahoga Soil & Water Conservation District
Why did you initially decide to participate in this internship program?
I have always had interest in the nonprofit and public sectors and wanted to expand my horizons in the Cleveland area. Plus, going to school in Washington, D.C. has physically taken me away from Cleveland, and I wanted to come back home and experience the city to the fullest with the incredible exposure that the Cleveland Foundation grants its summer interns.
What has been the most valuable aspect of your internship experience?
The most valuable aspect of my internship experience has been the Cleveland Foundation's Civic Immersion and Professional Development days, which consist of site visits to each intern's host organizations and meet and greets with nonprofit professionals, government officials, and valued community members. I have also greatly enjoyed meeting with my career coach from the Cleveland Foundation, whose guidance and friendship will prosper long after the summer ends.
What has been the most challenging aspect of your internship experience?
The most challenging aspect of my internship has been trying to decipher the difference between my passion and my purpose, and how to start a career path that encompasses one, or both, of these missions.
When you're not working, what do you enjoy doing around Cleveland?
In my free time, you can find me biking through the Metroparks and training my rescue dog. I also enjoy taking yoga and dance classes, attending Saturday morning farmers' markets, and spending quality time with friends and family.
What are your career goals after college?
After college, I plan to stay in Washington D.C. for a short while before coming back to Cleveland. I plan to expand upon my Geography degree with an Urban Studies program, and ultimately aim to advance placemaking and community building in Cleveland by creating more equitable spaces and expanding resources for vulnerable populations. For my next steps, I am most interested in working at community development corporations, local governmental agencies, and nonprofits that focus on strengthening community and taking on a leadership role when the opportunity arises.
How has this internship helped you grow professionally?
This Cleveland Foundation internship introduced me to a wide network of nonprofit and public sector professionals, but it's easy to lose these contacts if you do not make an effort to keep in touch. Because of this, I not only learned how to grow my network, but also to nurture it to maintain relationships.
What's your favorite public space in Cleveland?
My favorite public space is the Cleveland Lakefront Nature Preserve. It is a biodiversity hot-spot on the lake which offers hiking trails, wildlife viewing, and beautiful views of the skyline.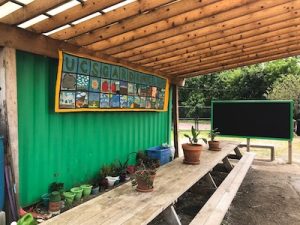 Where would you take a friend who is visiting Cleveland for the first time?
When a friend from out of town visits, I like to show them the sides of Cleveland they probably did not expect to find, such as the balance between nature and city. I would prioritize taking them to a couple of public greenspaces such as the Metroparks, Edgewater Beach, the Cultural Gardens and the Cuyahoga Valley National Park for good hiking. I would also show them the University Circle area with our awesome (and free!) Cleveland Museum of Art, ending with a walk through Little Italy for pizza at Mama Santa's, or Mediterranean food at my favorite restaurant, La Kabob Lebanese Grill, in Strongsville. Lastly, I would take them to as many breweries as possible to taste Cleveland's unique craft beer scene.
What advice would you give to someone considering applying for the Cleveland Foundation Summer Internship program?
Be kind, confident, and authentically you. Don't be afraid to stand out from the crowd – and a smile goes a long way!