#OurCGStories blog series highlights Cleveland Foundation staff who participated in our Common Ground day of community conversation on June 30.  In today's blog, we hear from Donna Johnson, Executive Assistant to the Senior Vice President of Advancement. On Common Ground day, Donna hosted a private conversation for her neighbors in Cleveland Heights. Here's what she had to say about Common Ground: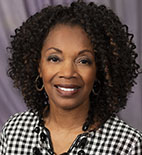 Name: Donna Johnson
Common Ground you hosted or attended: Private event for my Cleveland Heights neighborhood
Why did you choose to attend that Common Ground conversation?
Actually, I co-hosted the conversation with my next door neighbor. We decided to host an event to meet and engage our neighbors.
What's your favorite memory from the day?  
I was pleasantly surprised by the number of walk-ins that showed up for the conversation.  We had to keep grabbing yard chairs from next door!
What are some of the community issues you discussed at your conversation?  
We talked about investment variables that are impacting maintenance of properties as well housing costs.  We also talked about different types of activities/projects we could plan to engage all of our neighbors.
In your opinion, why is Common Ground important for our community?
Talking over a meal can be a bonding experience. Bringing like-minded people of all ages, cultures, races and socio-economic backgrounds to break bread together and discuss a topic or issue is something that just doesn't happen every day because of all kinds of different factors.  This one day event is a platform for engagement and transformation.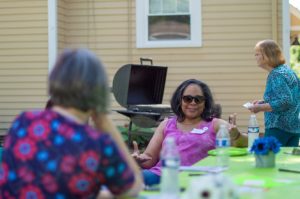 What surprised you about your Common Ground experience? 
I was surprised about how eager my neighbors were to get together and how willing they are to follow through on things we discussed.
Why should someone consider participating in Common Ground next year?
If you feel strongly about an issue or topic that is affecting your community, you will most likely find a conversation to join and be motivated to take action.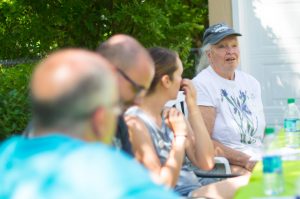 Since Common Ground, Donna and several of her neighbors have formed a neighborhood committee that is focused on increasing engagement amongst neighbors and addressing community needs. The committee is working on several projects for 2019, including a block party and a Little Free Library. The Cleveland Heights library system has donated the house to store books for the Little Free Library which will be installed and unveiled in the Fall. The Committee's first community engagement event was a neighborhood block party on Sunday, September 8th. Event planners invited safety and public officials from Cleveland Heights and University Heights to attend the event which will included a potluck cookout, book swap and youth activities.