Our #SummerOfPurpose blog series follows this year's Cleveland Foundation Summer Interns as they spend 11 weeks working with Cleveland-area nonprofit and public sector organizations. In today's blog we hear from Eva Holtkamp, who spent her summer working at Montefiore Foundation where she led social media and promotional efforts for the Shining Star CLE event and also served as a school outreach liaison. 
Name: Eva Holtkamp
College: Ohio University
Hometown: Shaker Heights, Ohio
Internship Host Site: Montefiore Foundation
Why did you initially decide to participate in this internship program?
This year the program featured a lot of sites that needed assistance with social media and outreach. I have never had the opportunity to work on these skills in a nonprofit setting, so the new challenge excited me.
What has been the most valuable aspect of your internship experience?
By far the most valuable aspect has been the Civic Immersion Days. As someone who is highly considering moving back to Cleveland after college, it was so valuable to learn about all the different career opportunities here that will help me make a real difference in people's lives.
What has been the most challenging aspect of your internship experience?
The most challenging aspect for me was building up the confidence to ask tough questions during Civic Immersion Days and network with all the professionals we met through both the Cleveland Foundation and the host sites. As a woman in the workplace, it can sometimes be difficult to feel like your voice and opinions are fully valued. The Cleveland Foundation, my host site and my incredible cohort fostered such a welcoming and constructive environment that helped me grow tremendously as a young professional. I am so grateful for their kindness and openness throughout these 11 weeks!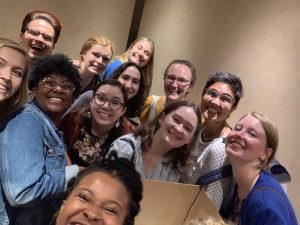 When you're not working, what do you enjoy doing around Cleveland?
As someone who is from the Cleveland area, it has been refreshing to spend the summer at home. Through connecting with my cohort I learned about so many new and exciting things to do around Cleveland from new hiking trails to new soul food restaurants.
What are your career goals after college?
After college, I am planning on working on the 2020 presidential campaign for whoever the Democratic nominee is. After that, who knows! This summer internship program has shown me that I have so many different paths I can take. Whether it's traveling, a gap year, grad school, working in government or nonprofit work, I am so excited to see where my path leads me.
How has this internship helped you grow professionally?
Throughout my internship, I managed two social media platforms that had very different audiences. This experience helped me to better hone my outreach and content creation skills to effectively engage the diverse community that Montefiore serves.
How has this internship helped you grow personally?
This internship truly helped me fall even more in love with Cleveland. Ever since high school, I have heard young people say how they could not wait to move away from the city. The Cleveland Foundation Summer Internship Program allowed me to connect with so many people and organizations that have reminded me why Cleveland is such a unique place to work and live.
What's your favorite public space in Cleveland?
Edgewater Park! It's my favorite place to bring my dog and have a picnic in the summertime hands down.
Where would you take a friend who is visiting Cleveland for the first time?
When I have friends who come to Cleveland for the first time I try to show them the most holistic picture of the city as I possibly can. Going to a game, taking them to a green space or beach and eating lots of delicious food are always on the agenda. Cleveland has so much to offer and the summer internship program has only reinforced that for me.
What advice would you give to someone considering applying for the Cleveland Foundation Summer Internship program?
Do it! Come into all the interviews and the program with an open mind. Although you may not be placed at the site that was your top pick on paper, the Cleveland Foundation does a fantastic job at looking at your resume and you as a person to place you somewhere where you will grow the most. I feel incredibly grateful to have been a part of the 20th cohort and I am incredibly excited to connect with future summer internship program alumni!