Just when many Northeast Ohio residents are turning to nature for exploration and respite, a new 2-mile trail, boardwalk and viewing platform in Geauga County, southeast of Punderson State Park, are now available for the public's enjoyment.
The newly opened Barbara A. Lipscomb Snow Lake Trail, located on a 272-acre addition to the Lucia S. Nash Preserve, is punctuated by Snow Lake, a scenic 32-acre kettle lake at the heart of the property that was formed when glaciers receded 15,000 years ago. The trail is the only public access point within the larger preserve that has been owned by The Nature Conservancy (TNC) since 1994 – and a portion of which is also designated as a national natural landmark.
Habitats at Snow Lake include marshes, meadows and swamps that provide a haven for freshwater fish and a vast array of native plants, as well as migratory and nesting ducks, geese, trumpeter swans and wading birds, beavers, otters, mink and foxes. Forests in the surrounding low hills feature vernal pool wetlands that appear and disappear seasonally, providing a place for salamanders, frogs and others to hatch.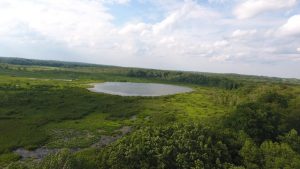 Conservationists consider Snow Lake an environmental treasure for reasons that extend beyond its benefits for wildlife – it feeds directly into the headwaters of the Cuyahoga River watershed, making it part of a vast natural filtration system that helps purify the drinking water for more than 300,000 residents in Akron and surrounding communities.
This makes the picturesque location a vital part of TNC's comprehensive water quality strategy in Ohio. In recognition of that, the property was purchased with help from Ohio EPA's Water Resource Restoration Sponsor Program in cooperation with the Northeast Ohio Regional Sewer District (NEORSD).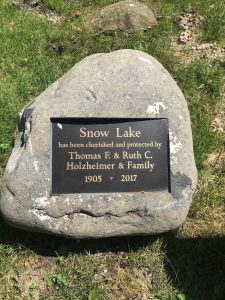 A $130,000 grant from the Cleveland Foundation in 2018, along with support from the Jean T. Lambert Foundation, the Lipscomb family, Moen, and The Kelvin & Eleanor Smith Foundation, supported public access enhancements, including development of the 2-mile Barbara A. Lipscomb Snow Lake Trail and construction of a new boardwalk and viewing platform.
The Cleveland Foundation also supported TNC's work with local partners, including the Cleveland Museum of Natural History and Cleveland Metroparks, to conduct assessments of rare and endangered species on the site.
Snow Lake is open daily, April through November, from dawn to dusk for hiking, birding and wildlife watching. Visit www.nature.org/lucianashpreserve for directions and preserve highlights, or check out The Nature Conservancy on YouTube to hike the trail virtually.