Our #SummerOfPurpose blog series follows this year's Cleveland Foundation Summer Interns, who spent 11 weeks working with Cleveland-area nonprofit and public sector organizations. In today's blog we hear from Rachel Zvara-Barrington, who worked with Cleveland Rape Crisis Center assisting the manager of the Sexual Assault Kit Initiative in creating and compiling essential data associated with sexual assault cases from the City of Cleveland's initial reports dating to 1993 and prior.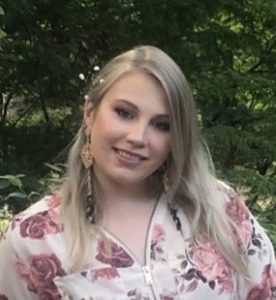 Name: Rachel Zvara-Barrington
College: Cleveland State University 
Hometown: Bay Village, OH
Internship Host Site: Cleveland Rape Crisis Center
Why did you initially decide to participate in this internship program?
To be honest, I've never known exactly what I wanted to do with my life. All I knew was that I needed to spend the rest of my life helping/coaching people, leading others and fighting for social justice. However, I lacked direction in terms of where I wanted to start and within what sector. I declared practically every major onto my transcript before I decided on Religious Studies. I had so many passions I didn't know where to begin and decided to participate in this internship in hopes that it would help me focus on something specific so that I could really improve my skills within that area. And it did!
What has been the most valuable aspect of your internship experience?
The most valuable aspect of my internship is how it's made me a better person. Working with survivors of sexual violence has morphed me into a more humble, compassionate, truth-seeking, justice-oriented, fiercely loving person. For me, the value is not in the professional growth but the growth in my heart. I've developed a deeper awareness of intersectionality, and seeing firsthand how racism, gender issues, poverty, social class, and other forces have severely impacted sexual violence and atrociously penetrated the criminal justice system broke me. But then it created this insatiable drive to do something about the injustices I saw. The most valuable aspect of this experience has been learning that professional growth, development and progress don't mean anything if your heart isn't in it. As a result, I've come out of the internship as a better person, ready to tackle my career ahead of me.
What has been the most challenging aspect of your internship experience?
As you can imagine, working within an agency that directly services survivors of some of the worst crimes imaginable can take a toll on you. Your days are filled with real-life stories and cases of rape, child abuse, and domestic violence… it can become overwhelming. I had to learn quickly that setting boundaries and taking care of myself were absolutely necessary within this type of work. Truly, your work is only as good as you are, and that's transferable to any job – even if your job setting doesn't involve exposure to vicarious trauma. I spent a lot of my self-care time in nature and discovered my love for plants and flowers. Surrounding myself with flowers and things that represent growth and life became important to me!
When you're not working, what do you enjoy doing around Cleveland?
Everything and anything! I love mini-adventures and I love culture and diversity, so I would have to say that one of the best things to do is to walk around Downtown, Tremont, Ohio City, etc. and just enjoy the scenery and soak in the people. I will admit, I'm hopelessly obsessed with Barrio and anything taco related. If it has anything to do with tacos or dumbbells, I'm down. I also love to work out at this class called F45 at the Cleveland State Recreation Center. It's a high-intensity interval training class that practically kills you in the process, but then you get really strong and muscular over time – so hey, it's worth it, right? Go hard, or go home! It's not open right now because of COVID, but I will definitely be there when it opens up again.
What are your career goals after college?
Well that's where the fun part comes in! My career goals changed when I started this internship. There's an intensive onboarding training process that all employees have to go through at the agency for obvious reasons. Part of that training involved understanding the gaps in the criminal justice system and the systemic barriers that exist, which could be preventing a survivor from healing and/or obtaining the justice they deserve. I did not fully understand how broken some of our systems are – the criminal justice system, education, etc. – until I started this internship. I never thought I would want to go into public policy or politics until now. I want to affect policies on the local level to influence change for those disenfranchised by our system. I want to get my masters in public administration. In the future, I could see myself running for city council or becoming mayor. I just want to make a difference for people.
What advice would you give to someone considering applying for the Cleveland Foundation Summer Internship program?
Practice, practice, practice! Use the resources you have as a college student to your advantage. For this internship, I spent many hours working with the Career Services Center at CSU to perfect my resume, statement of purpose, and my interviewing skills. Every step of the way I sought professional advice and looked for ways to improve my chances. I sat down with the Assistant Director of Career Services at least four times for mock interviews. When I sat down for the first interview, I nailed it because I had already practiced and worked through tons of my answers beforehand. Also, keep in mind that if this program is meant for you, you will get it. It sounds prideful, but I walked away from my final interview with my host site knowing that I got it. When you've worked very hard and you have confidence in yourself, employers can feel that energy. Never forget that.