By Briana Oldham, Cleveland Foundation Equity Communications and Engagement Fellow
They say experience is life's greatest teacher. For Karen Murray, an Adult Reference Associate at East Cleveland Public Library (ECPL), the theme of helping and learning is a reoccurring one. Murray has participated in Common Ground since its inception as a participant in others' conversations. Now in Common Ground's fifth year, Murray recounts, "After attending conversations in the past, I decided I wanted to be a host." And a host she has been. 
Common Ground is an annual event where community-led conversations take place, and all have the same goal: to create spaces where meaningful connections are made, and purposeful actions begin.
Murray is what some would consider to be a superhost, like the very qualified Airbnb hosts who exceed expectations and ensure a wonderful time is had by everyone involved. She is super in these ways and more because she chose to be a first-time host for not one, but two events during such a difficult time in an unconventional and unique year. She held a conversation on behalf of ECPL and another in association with her nonprofit, For Spectrum Sake. For Spectrum Sake helps provide resources to disabled persons in the Cleveland area. Determined and eager, her passion to assist those in need was stronger than ever. She didn't let all that was going on around her deter her from reaching out and paying it forward.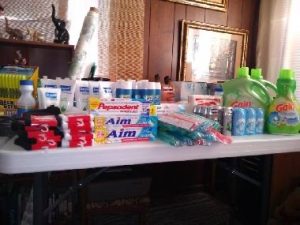 The inspiration for her For Spectrum Sake Common Ground event came from a survey she created to assess what services people needed. Based on the answers, she then provided a list of resources and put together kits to be distributed to the families in need. The kits included toiletries, household items, word searches, and large calendars to keep track of appointments. She made sure everything ran safely and smoothly, whether she dropped the kits off or people came to pick them up. Her light and joy shine bright when you talk to her about the events. When asked about the enthusiasm behind her efforts, Murray had this to say: 
"My son has autism and I've been involved with events that provide programs for him his entire life. It is something I love to do – helping people. Outside of working for the library, it's what keeps me going." 
For more than 15 years, Murray has worked at ECPL. The event she put on for the library consisted of a panel of four professionals from the Cleveland, East Cleveland and Euclid Public libraries discussing how to keep patrons engaged during the COVID-19 pandemic. They examined resources available within their facilities and how to help people, even at home. Coupled with how-to guides and live music, the event was surely a success as it kicked off the summer season. 
Going forward, ECPL wants to continue to utilize social platforms like YouTube and Facebook to stream events and get people involved who may not be able to leave their homes. To learn more about what the library has come up with, you can visit their website here.  
People who are so freely giving of their time make this world a truly better place. Karen Murray is someone who leverages her love of helping people and community in a way that is felt by all those who know her. Looking ahead to the 5th anniversary of Common Ground this year, Murray already knows what she'd like to do and the demographic she'd like to help.
Common Ground 2021 will take place July 16-30th! Stay tuned to learn more about what Karen and hundreds of other community members will be building for Common Ground 2021 here.