The Cleveland Foundation Public Service Fellowship offers emerging young leaders the skills and networks needed to create the community they envision and jumpstart a career in public service. In this #FellowFriday blog, 2019-20 Cleveland Foundation Public Service Fellow Marsalis Hammons talks about his fellowship experience working with the Cleveland Metropolitan School District (CMSD) Human Resource Department. Learn more about the Cleveland Foundation Public Service Fellowship and apply here.
*Please note: this blog was written before the COVID-19 pandemic. 
Name: Marsalis Hammons
College: Cleveland State University (CSU)
Hometown: Elyria, OH
Fellowship Host Site: Cleveland Metropolitan School District – Human Resource Department
Why did you initially decide to participate in this fellowship?
I believed taking part in the Public Service Fellowship would give me direction towards where I wanted to build my career. I also felt that I would gain key skills and exposure to business leaders within the Greater Cleveland area.
What has been the most valuable aspect of your fellowship experience?
The most valuable aspects of my fellowship have been the learning opportunities and overall support from the Cleveland Foundation in providing professional development tailored to our cohort's interests. Although we're working full time, the camaraderie between the cohort members reminds you that you're not alone.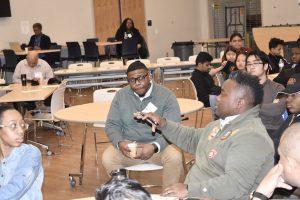 What has been the most challenging aspect of your fellowship experience?
The most challenging aspect of my fellowship experience was learning how to navigate a large district such as CMSD. It took me a while to understand the organizational structure and who to contact for certain situations. But CMSD's HR staff did a great job introducing me to other departments and business leaders throughout the district. 
When you're not working, what do you enjoy doing around Cleveland?
I enjoy finding new places to grab coffee or visiting local art exhibitions.
What's your favorite Cleveland restaurant, and what dish do you recommend there?
I'm a pretty simple guy – I would say my favorite place to eat is Winking Lizard, especially during a Cleveland Browns game. I would recommend their black bean burger and mac n cheese bites.
What's your favorite public space in Cleveland?
It's hard to choose just one place, but on a beautiful summer day, I'd say Edgewater Beach. During the winter months, my favorite place would be Pubic Square to see the Christmas lights.
Where would you take a friend who is visiting Cleveland for the first time? 
If I was hosting a friend for the first time in Cleveland, I'd definitely take them to Ohio City and the West Side market to experience the different ethnic foods and fresh produce. If it was a third Friday of the month, I'd take them to 78th Studios to view the free art exhibitions.
How has this fellowship affected your career plans?
This fellowship widened my perspective on the different career options available through public and private partnerships. My experience has helped me to connect and gain advice from local business leaders that I typically wouldn't have been exposed to in my day-to-day work. Overall, this fellowship has helped me narrow down my career focus, and I feel empowered walking into my next chapter of public service.
Why would you recommend this fellowship program to others?
I would recommend this fellowship to others because it's a pipeline towards a successful career in public service and helps you grow professionally. You may have an idea of what career path you'd like to take, but the fellowship gives you a holistic perspective and real-world experiences to help make the transition.
What advice would you give to someone considering applying for the Cleveland Foundation Public Service Fellowship?
My advice to anyone considering applying for the Public Service Fellowship would be to remain true to who you are – your work and passions will speak for themselves.