A guest blog by Reverend Christine A. Smith, Senior Pastor of Restoration Ministries in Euclid, Ohio
In 2017, our congregation (formerly Covenant Baptist Church; now, Restoration Ministries of Greater Cleveland, Inc.) prayed for greater opportunities to impact our community in meaningful ways. We began the journey by attending community meetings held by the Cleveland Clinic. At one of those meetings, we were given the opportunity to participate in specific community initiatives through groups. We were drawn to the "social determinants of poverty" group, focused upon food insecurity and food deserts in communities of color and urban areas. After several meetings, it was clear that this was the area we were being led to address.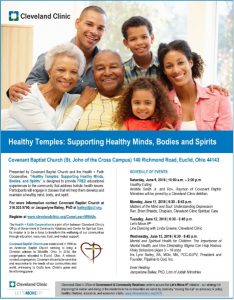 Through prayer, faith and strategic planning, we were led to launch a collaborative initiative, "Healthy Temples: Supporting Healthy Minds, Bodies and Spirits." The vision for the week- long summer series included classes on depression in males and youth, exercise, prayer, blood pressure checks and healthy eating. Our partners to offer classes included employees from the Cleveland Clinic, St. John of the Cross Parish (Euclid, Ohio), local ministers as well as our own ministerial staff.
In order to accomplish the goal of addressing food insecurity, we needed additional community partners. Enter Common Ground. We were introduced to Common Ground through a wonderful community leader and advocate, Mr. Roger Sykes, Creating Healthy Communities Program Manager at The Cuyahoga County Board of Health. Mr. Sykes worked diligently to help us identify partners who shared our vision of teaching healthy meal preparation, supplying a bag of healthy food items for several meals, while offering practical tips on how to shop on a "skinny budget."
After several meetings and discussions, we were able to gain support from Simon's Grocery Supermarket (Euclid, Ohio) to provide fresh produce for our initiative. With the help of our community partners, our congregation held its second annual "Healthy Temples: Supporting Healthy Minds, Bodies and Spirits," events, June 9 through June 13, 2018. June 9, 2018 featured our "Healthy Eating" cooking class, led by our community partner Beth Hustead, from the Ohio SNAP-Ed Colleges of Food and Environmental Sciences & Education and Human Ecology. Members of our congregation assisted with providing instructions and demonstrations on how to prepare healthy, tasty meals on a budget. Hearty samples and free groceries were provided to class participants. With the help of Common Ground and our community partners, Restoration Ministries of Greater Cleveland, Inc. was able to provide $500 worth of fresh produce to class participants. Also, 50 additional bags of groceries were given to the Greater Cleveland Food Bank. 
In 2018, our ministry joined with others from across Cuyahoga County to address food insecurity in our communities. These important conversations led us to become more active in Common Ground. On June 24, 2018, residents from East Cleveland, Cleveland, Euclid and Lakewood met to discuss increasing access to and quality of supermarkets. Participants gained information regarding community organizing strategies used in the Euclid and Buckeye areas to work with local and regional governments and Simon's Supermarket on supermarket implementation. 
In the face of the COVID-19 pandemic and the continued institutional and systemic racism epidemic, all Common Ground conversations in 2020 were held virtually. In 2020, Restoration Ministries received a $500 grant from Common Ground to continue our work within the community! We have agreed to serve as a virtual host for conversations on community issues in the coming months. The $500 grant we received was used to collaborate with other community organizations to offer designated assistance for COVID-19 related issues as well as assistance for individuals facing food insecurity.

Specifically, On August 21, 2020, Restoration Ministries – in collaboration with "Faith in the City," (a Euclid area faith-leaders group in collaboration with Euclid City Hall), MetroHealth Medical Center and the Cuyahoga County Board of Health – offered free COVID-19 testing to people in the city of Euclid and beyond. Restoration Ministries of Greater Cleveland is a member of Faith in the City.
Individuals desiring to be tested did not need to have a prescription or specific symptoms. The only requirement was that they pre-register. The testing was offered in a "drive-thru" fashion as well as "walk-ups." Together, we were able to provide testing for approximately 150 people. Restoration Ministries assisted with donating funds to create packets for distribution containing masks, hand-sanitizers, gloves, voter registration and census information. Our members also provided volunteer assistance for the event.
We are eternally grateful for Common Ground! Through this powerful, timely and critical initiative, churches, groups and individuals have received the support that is needed to impact their communities in strategic ways. Through the combined efforts of community voices, agencies and institutions, many lives will be improved, hope revived and healthy living advanced!