Our #SummerOfPurpose blog series follows this year's Cleveland Foundation Summer Interns as they reflect on 11 weeks spent working with Cleveland-area nonprofit and public sector organizations. In today's blog, we hear from Milo Schumann, who spent their summer with SPACES, where they assisted with the production, development, and public presentation of a new artistic commission, Artist-in-Residence Nastassja Swift's (Virginia Beach, VA) To and From the Elysian Plain (TFEP).
Name: Milo Schumann
College: Kent State University
Hometown: Cleveland, OH
Internship Host Site: SPACES
Why did you initially decide to participate in this internship program?
I liked the wide range of organizations that were part of the cohort. I was interested in several of the organizations and I knew that getting a position at any of them would be a good way to start off my time as a working adult, especially as someone that has just graduated from college.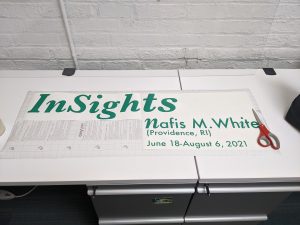 What was the most valuable aspect of your internship experience?  
The most valuable aspect was the direct, hands-on experience I had with art and artists. I've learned about art handling, gallery maintenance, and being a studio assistant. I did a lot of work to help with the installation of Nafis M. White's show, InSights — one of the aspects of the installation that I was the most involved in was cutting out and applying the vinyl lettering for her wall text. I also worked on deinstalling the show prior to Nafis', maintaining our current exhibit so it's ready to show to visitors, and preparing our space so we could host both Nafis and our current artist-in-residence, Nastassja Swift. I'm glad I've been able to start developing all these practical skills so early on in my career.
How did this internship help you grow professionally?
This internship helped me grow professionally by teaching me a lot of practical skills that will help me in any future positions I hold with other galleries, museums, or community arts organizations. It's also strengthened a lot of the professional connections I already had with other artists and groups in the Cleveland area.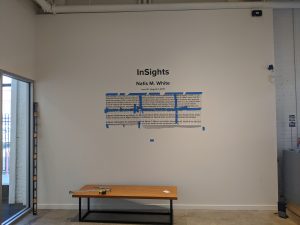 How did this internship help you grow personally?
This internship helped me grow personally by providing me with new connections in the community — a lot of these new connections can absolutely be considered professional, but I also just like getting to know the folks that live around me.   
What are your career goals after college?  
Now that I'm done with college, my career goals are to work with community-focused, arts-based organizations by doing administrative or development work. I want to get an associate's degree in accounting within the next few years so I can have the skills to do finance-based work like grantwriting, bookkeeping, or handling budgets. I want to be able to help community-based organizations continue to support others because they've helped me throughout my life.
When you're not working, what do you enjoy doing around Cleveland?        
I like to visit the art museums, go to concerts, and volunteer with community-focused groups in the area.
Where would you take a friend who is visiting Cleveland for the first time?  
I'd take them out for ice cream. My favorite ice cream place is Mason's, but it's hard to go wrong with all of our great local options.
What advice would you give to someone considering applying for the Cleveland Foundation Summer Internship program?
I would suggest having a clear idea of what you want to do or learn if you were to get one of the internships. That will help you a lot during the interview process! Other than that, be confident in your abilities and your prior work experience, and you'll be fine. Good luck!