Our #SummerOfPurpose blog series follows this year's Cleveland Foundation Summer Interns as they reflect on 11 weeks spent working with Cleveland-area nonprofit and public sector organizations. In today's blog, we hear from Morgan Goodwin, who spent her summer at PCs for People, where she supported the organization's efforts to reduce the digital divide through a multifaceted social enterprise model with widespread community impact. 

Name: Morgan Goodwin
College: North Carolina Central University
Hometown: South Euclid, Ohio
Internship Host Site: PCs For People
Why did you initially decide to participate in this internship program?  
I initially decided to participate with this program because I wanted to help people within my hometown. The Cleveland Foundation provides many opportunities to give back and make an impact within underserved communities.
What has been the most valuable aspect of your internship experience?
The most valuable experience within my internship has been meeting different people from all walks of life. I've had the chance to learn under extremely talented and amazing individuals who have helped me understand the ins and outs of a nonprofit organization and the various ways to impact East Cleveland.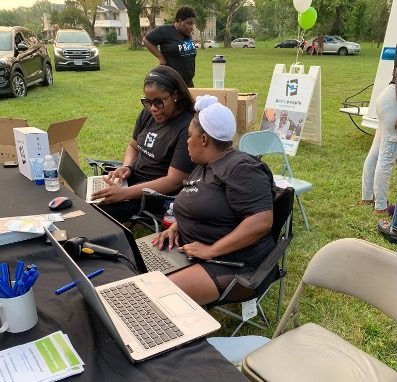 What has been the most challenging aspect of your internship experience?
One aspect of the internship that I would consider challenging would be staying on top of tasks assigned by the Cleveland Foundation while working a job and doing summer classes. A few skills I gained would be learning to manage my time better. I also stepped out of my comfort zone and gained networking skills due to working so closely with the public.
When you're not working, what do you enjoy doing around Cleveland?  
When I am not working I enjoy going out to restaurants and getting food with my friends. I also enjoy going on walks and exploring new places or landmarks within Cleveland.
What are your career goals after college?  
My career goals after college include helping my community in every way I possibly can. I have a passion for helping others, especially underserved communities. I see myself providing resources to others and improving the wellbeing of people in need.
How has this internship helped you grow professionally?  
This internship has really expanded my knowledge of how to accomplish a project while working together as a team. I learned how to plan events as well as how operations management affects an organization. I will use these skills as I continue my career.
How has this internship helped you grow personally?
This internship has helped me grow confidence in my abilities. While working with people as educated and professional as my co-workers, it really put my experience to the test and showed me that I can thrive in any situation due to the fact that I have prepared myself to be here.
What's your favorite public space in Cleveland?   
City Hall is one of my favorite places in Cleveland. I believe that comes from when I was younger – my dad took me on weekends and I always enjoyed myself.
Where would you take a friend who is visiting Cleveland for the first time?  
If a friend was visiting Cleveland I would take them downtown and show them around the city, explore the Flats, and maybe take them to Edgewater. I would show them some great restaurants and maybe show them the Cleveland Botanical Garden. 
What advice would you give to someone considering applying for the Cleveland Foundation Summer Internship program?  
I would tell them to apply! This internship will enhance many qualities you want to improve throughout your career and expose you to a wide variety of individuals that you make life connections with.