By Sinegugu Gasa, Cleveland Foundation Community Narrative & Engagement Fellow
At the corner of East 66th Street and Euclid Avenue, new artwork has been installed on the construction fence at the site of the future Cleveland Foundation headquarters in MidTown. Titled Stardust: An Exploration of Black Futures, the public art installation is a collection of photography by Mikael Owunna and poetry by Andrea Doe that has been curated by local artist and activist Amanda King of Shooting Without Bullets. Amanda has been working with the Cleveland Foundation to build community programming, performances and engagement around the move to the new headquarters. Stardust is the first installation of a five-series activation. In this blog, we interview Amanda King about the details of Stardust and the collaborations involved in bringing it to life.
What were some of the origin ideas and influences behind Stardust?
Amanda King (AK): The idea was to build an art installation that the public could engage with while construction for the new headquarters is still ongoing. I sought to curate an artwork that envisioned the future and honored the cultural heritage of Hough, a predominantly Black neighborhood as well as the new home of the Cleveland Foundation. Stardust also speaks to the larger issue of dismantling the racism that is pervasive in Cleveland and providing an offering and reimagining of what the future could look like.
Can you tell us more about Stardust and its meaning?
AK: Stardust is a multi-panel, semi-permanent public art installation, located on the grounds of Dunham Tavern Museum. It consists of color photography by Mikael Owunna and literary art by Andrea Doe. Stardust explores the themes of Black futures through notions and representations of Afro-diaspora transfigurations. The word "transfiguration" means the transformation of one's form into a more beautiful state; Stardust is rooted in artist activism and demarcates space for Black futures beyond the dimensions they currently occupy. As we move toward racial equity and inclusion, we want to make sure that Black people — their voices and neighborhoods — are preserved in the process.
Stardust: An Exploration of Black Futures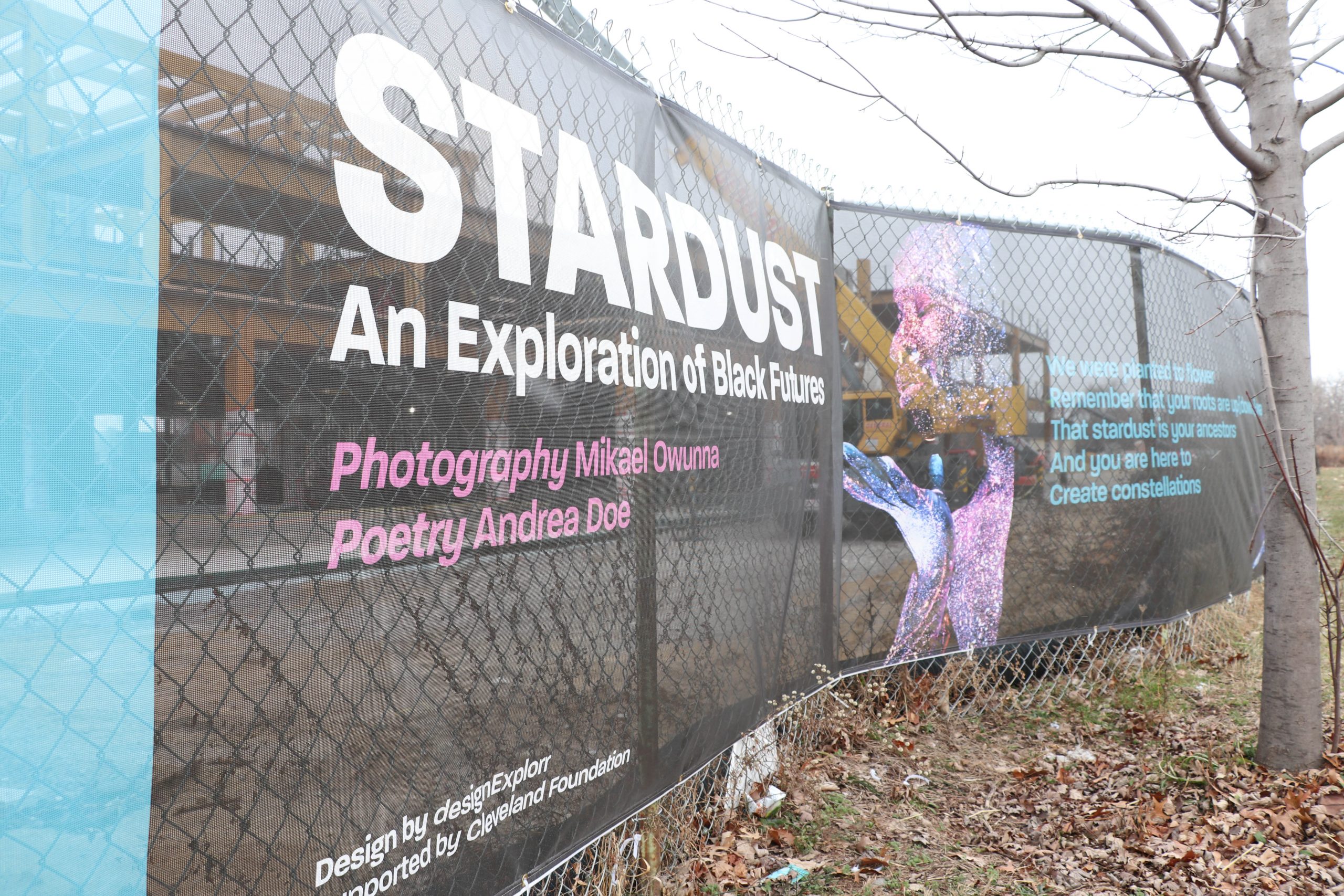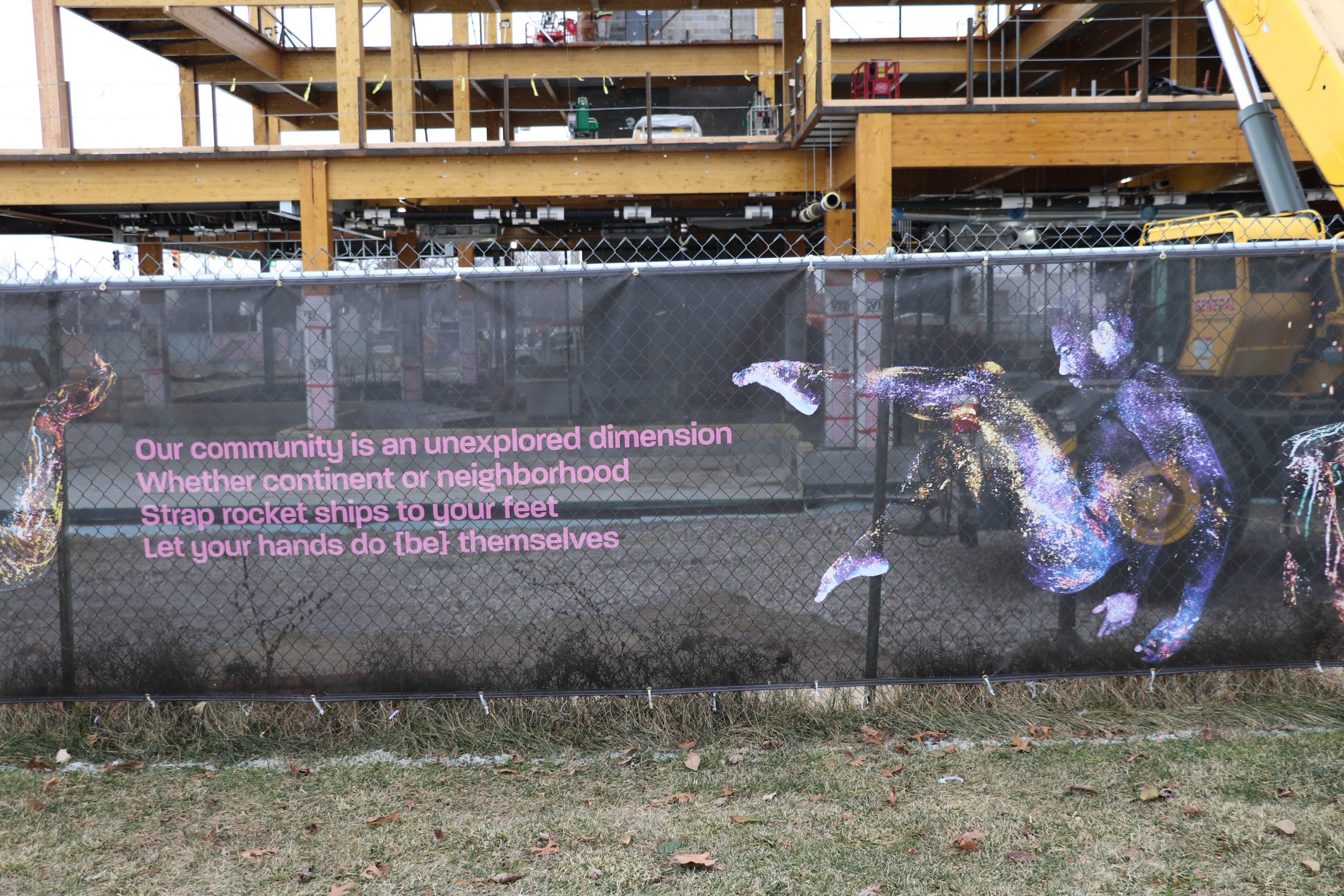 Who are the other artists involved in creating Stardust?
AK: Mikael Owunna is a queer Nigerian American multimedia artist and engineer who explores the intersection of visual media and engineering optics, Blackness and African cosmologies. His work seeks to elucidate an imaginary vision of possibility that pushes people beyond all boundaries. His work has been exhibited across the world and collected by the National Museum of Art, the Equal Justice Initiative, Duke University, and the National Taiwan Museum. The Stardust image is a photograph — Mikael began by hand painting the model's body with fluorescent paint. Mikael used his engineering skills to build his own flash that only transmits ultraviolet light. In total darkness, he then clicked down on the shutter and for a fraction of a second, the model's body is illuminated in the cosmic patterns displayed in the image. Mikael was inspired to create this image after he was inundated with images of Black death due to police violence. Mikael decided to use his own skills to transfigure these sights of Black death at the hands of state violence to transfigure Black bodies into cosmic vessels of eternal life. Mikael's work is also grounded in specific West African stories that state that Blackness is the source of all light.
Andrea Doe is a writer based in Cleveland. Her main practice is poetry. Andrea uses poetry as a verbal representation of visual art. Her words are very complimentary to the artwork of Stardust. Andrea is a frequent performer at The People's Poetry Slam and is a writing fellow with Twelve Literary Arts. Andrea has also self-published two books. Andrea's poetry helps us understand that there is another future to Blackness — that there is another way to understand Blackness outside sights of pain and violence.
Watch a reading of Andrea Doe's poetry here.
We would also like include a special mention to designExplorr. This organization teaches graphic design to Black and brown youth and is led by Jacinda Walker. designExplorr was responsible for the design of Stardust. This truly was a participatory community project, and I am grateful to be a part of it.
Learn more about Mikael Owunna's work here, explore Andrea Doe's work here, and find information about Amanda King's work here. Stardust will be on display through summer 2022– click here for directions to visit the installation and stay tuned as we share more about the art activations planned around the Cleveland Foundation's new headquarters.