Our #SummerOfPurpose blog series follows this year's Cleveland Foundation Summer Interns as they reflect on 11 weeks spent working with Cleveland-area nonprofit and public sector organizations. In today's blog, we hear from Cielle Brady, who spent her summer at East End Neighborhood House, where she worked collaboratively with a supervisor and team to expand their Marjorie Hall-Ellis Institute. 
Name: Cielle Brady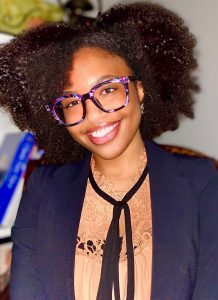 College: Case Western Reserve University
Hometown: Cleveland, Ohio
Internship Host Site: East End Neighborhood House
Why did you initially decide to participate in this internship program? 
Last year, my health disparities professor shared a documentary on the public health crises in Cleveland, such as lead poisoning and infant mortality. I noticed my neighborhood was mentioned, so I approached her after class and asked if she knew any organizations that had their boots on the ground and were passionate about caring for Cleveland. After she forwarded me the opportunity to be placed at a local nonprofit with the Cleveland Foundation, I knew that I wanted to learn the names and work of change-makers in my community.
What has been the most valuable aspect of your internship experience?
The most valuable aspect of my internship experience has been learning the meaning of the word "Ubuntu" at East End Neighborhood House. This powerful term captures the environment that I was fortunate to walk into everyday and it represents humanity because we should all recognize "I am because we are." East End provides family services for all members- from children to seniors- and strives to meet every need with their implementation of wraparound services. It was incredibly valuable for me to witness how an organization's best practices live on with the staff, parents, and within their initiatives. From receiving a "Good morning!" as soon as I walked in everyday to East End being awarded as a Black-led/Black-serving organization, I absorbed what a welcoming and passionate work environment looks like and how those are key factors to strengthening community pride. 
What has been the most challenging aspect of your internship experience?
The most challenging aspect of my internship experience was also the most educational aspect. I learned that in many nonprofits, each person wears multiple hats. For example, I learned from my director that she runs a radio show, organizes entrepreneurship sessions for parents, and is an ambassador for community events, etc. I asked her once how she handles it all and she responded with the loudest laugh! I had to get adjusted to the skill of multitasking and hyper-focusing on projects quickly, but I know this is a learning experience I'll always carry with me.
When you're not working, what do you enjoy doing around Cleveland?
I love finding new restaurants in Cleveland, especially on the east side because there are so many hidden gems close by! I also like when my friends travel back home and we typically take dance classes or choreographing routines. My campus is really pretty in the spring and summertime, so I like to just galavant around the Cleveland Museum of Art and the Cultural Gardens because the views around Case are so amazing.
What are your career goals after college?
I've been crafting my professional and academic endeavors to lead me to become a clinical ethicist. I'd like to earn my Masters in Public Health and Bioethics. Currently, I am in the process of applying to graduate programs and hope to gain more experience in fields related to health justice, ethics, and patients' rights. I really want to help marginalized communities feel more welcomed and empowered to make health-conscious and medical decisions as well as increase cultural responsibility, competency, and accountability within clinical settings.
How has this internship helped you grow professionally?
This internship helped grow my understanding of how nonprofits are funded and operated. I can tell Cleveland is a one-of-a-kind place to learn what service-based organizations should look like. With each visit to different host sites, I was able to see what common thread ties them all together and what needs to stay unique to help address the needs of each neighborhood. As a Cleveland native, I really wanted to see if the critical conversations about race, segregation, social determinants, etc, that I've been hearing as a child were being taken seriously or not. It truly impacted me that this internship placed me in close proximity to plans and change-makers who were knowledgeable and passionate about addressing those issues. I learned that professionally, Cleveland is shifting and turning to hire great and caring advocates for the city, which makes me feel so inspired!
How has this internship helped you grow personally? 
If I could describe how I felt after this internship in one adjective, it would be…spongy. I felt like a walking sponge the entire time and in the best way. Firstly, I had never stepped foot on the westside of Cleveland until this internship. Secondly, I'd never had the opportunity to work at a Black-led/Black-serving organization. Thirdly, I never knew the names of organizations who were serving my own neighborhood before I started. The list can truly go on and for that, I am so thankful to have had such an amazing experience and to have gotten to know such amazing people who were wells of knowledge and compassion.
What's your favorite public space in Cleveland? 
My favorite space used to be more public "back in the day," but the Arcade! It has incredible architecture and such unique shops. It also gives me major nostalgia because it was the first place I visited before I moved to Cleveland when I was 10 years old.
Where would you take a friend who is visiting Cleveland for the first time?
I would take a friend to the Cleveland Museum of Art and the West Side Market because both are one of a kind and truly treasures. My favorite seasonal gallery is the print gallery in the museum because it showcases a lot of women of color's artwork. I also love getting Japanese sodas from the market because it reminds me of the Lolly the Trolley days and is also nostalgic for me.
What advice would you give to someone considering applying for the Cleveland Foundation Summer Internship program?
I would advise anyone who is considering applying for this internship to make an informal thesis for themselves. It's important to state either in their application or interview, what their intentions are for the summer. "So, what are you doing this summer?" is one of the most common questions that will come up in conversation, especially at networking opportunities. This is a helpful preparation technique and helped me to craft an answer that is true to my authentic self. Before this internship, I wanted to learn the names and services provided by local organizations who strive to increase equity for Black residents in the City of Cleveland. I was happy to be placed at an organization who did this through family and wraparound services. By having this thesis or goal in mind, I was able to formulate better informed questions and learn the  process in more depth. With this internship, I felt that I had barely scratched the service of non-profit work so, I always ventured back to my mini-thesis to help organize and re-iterate all of the information that I learned. 
To learn more about the Cleveland Foundation Summer Internship Program, click here.