Our #SummerOfPurpose blog series follows this year's Cleveland Foundation Summer Interns as they reflect on 11 weeks spent working with Cleveland-area nonprofit and public sector organizations. In today's blog, we hear from Audrey Ray, who spent her summer at FRONT International: Cleveland Triennial for Contemporary Art, a free public art exhibition comprised of artist commissions, performances, films, and public programs that takes place across Cleveland, Akron and Oberlin every three years.
Name: Audrey Ray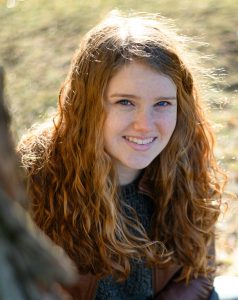 College: University of Alabama 
Hometown: Bay Village, Ohio
Internship Host Site: FRONT International: Cleveland Triennial for Contemporary Art
Why did you initially decide to participate in this internship program?
I was searching for an internship in the Cleveland area so that I could stay at home with my siblings, my parents, and my dogs since I'm so far away for most of the year. This program initially drew my attention because of its variety of opportunities, including the chance to meet other highly-motivated and passionate students and to observe how multiple nonprofits run in the Cleveland area. I'm not entirely sure what I want to do after school, so this internship seemed like a fantastic opportunity to explore a sector of the professional world that I was unfamiliar with, which could help me narrow down my career goals.
What has been the most valuable aspect of your internship experience?
I think that would definitely be the people I met over the summer. Not only was I able to establish networking connections among professionals and other students in the Cleveland area, but I was also able to create true, lasting friendships among my cohort.
What has been the most challenging aspect of your internship experience??
At first, I struggled with having to be extremely flexible and adaptable. My supervisor warned me when I interviewed that working in a small nonprofit means learning how to juggle multiple hats, and I found that to be true right away. I think in just my first couple of weeks of work I did everything from sorting hardware for an art installation, social media maintenance, running errands, and attending meetings. Transformer Station was my usual work location, but I traveled all over the Greater Cleveland area during the summer. Although I typically worked from 9-5, each 9-5 day looked very different from the next.
When you're not working, what do you enjoy doing around Cleveland?
I love hanging out by the lake! Paddleboarding on the lake at sunset is my favorite summer activity. I also love collecting small rocks to paint and sea glass to turn into mosaic art.
What are your career goals after college?
My answer to this question is constantly changing. As of right now, I'm hoping to pursue a career that combines science, art, travel, and people. I love learning, so I may delay this goal initially after college to attend more school.
How has this internship helped you grow professionally?
The most important professional lesson that I learned is that consistent communication is key to running an organized company. Besides that, I learned how to engage professionally on social media, how to network more meaningfully, and while installing artwork that there are specific classifications for hardware besides simply "screws" and "nuts."
How has this internship helped you grow personally?
This program definitely pushed me out of my comfort zone because it was in a different field from my major in school. In general, I feel much more confident in my ability to creatively problem-solve and work independently. I also had the chance to expand my circle of Cleveland friends!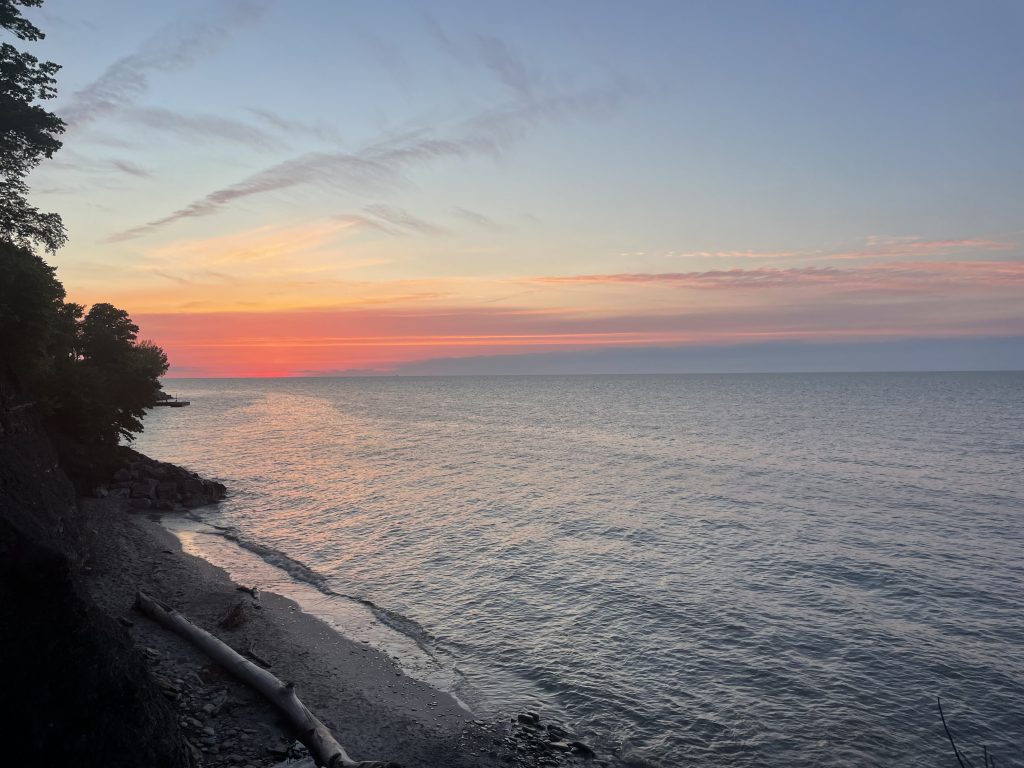 Where would you take a friend who is visiting Cleveland for the first time?
I would take my friend along for a classic day in the life of Audrey, which would include lattes made by Brian Ray (my dad), hiking in the Metroparks with my dogs or paddleboarding on the lake, and then watching the sunset with black raspberry chocolate chunk waffle cones with sprinkles from Mitchell's. My favorite spot to watch the sunset or sunrise is from the cliff at Columbia Beach Falls.
If my friend happened to visit this summer, I would take them to one of the FRONT exhibitions! All of these exhibitions are free to the public until October and they're located all over Cleveland, Akron, and Oberlin. Transformer Station, Cleveland Public Library, Allen Memorial Museum, Quaker Square, and The Alexander McGaffin Memorial Tower and Carillon are a few of my favorite sites (sorry for the shameless plug!).
What advice would you give to someone considering applying for the Cleveland Foundation Summer Internship program?
Definitely apply!!! I remember reading through these blogs last year and trying to figure out if I even had enough time to finish the application for this program on top of school and life. After experiencing the internship myself, I promise you won't regret simply applying to see what happens. It's a surreal experience to be one of the authors of a blog post now. Even if it doesn't totally seem to fit your current professional or personal goals, this program is worth being a part of because it is truly transformative.
To learn more about the Cleveland Foundation Summer Internship Program, click here.