Our #SummerOfPurpose blog series follows this year's Cleveland Foundation Summer Interns as they reflect on 11 weeks spent working with Cleveland-area nonprofit and public sector organizations. In today's blog, we hear from Morgan Anderson, who spent her summer at the Down Syndrome Association of Northeast Ohio where she helped organize the Buddy Walk.
Name: Morgan Anderson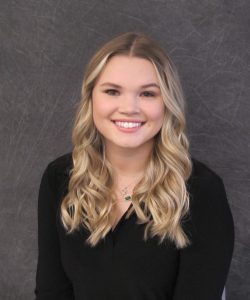 College: John Carroll University
Hometown: Ashtabula, Ohio
Internship Host Site: Down Syndrome Association of Northeast Ohio
Why did you initially decide to participate in this internship program?
I was initially drawn to this internship program because of my past experience with the Ashtabula Foundation. As I continued to learn more about the summer internship program and the Cleveland Foundation, I was able to see how the internship program is tailored to meet and develop the strengths of the interns. When I was placed at DSANEO, I saw how methodical the matching process was which inspired me to use my strengths to help a meaningful and wonderful nonprofit.
What has been the most valuable aspect of your internship experience?
The most valuable aspect of my internship experience is the opportunity to have such a prominent role in such a meaningful event. The Buddy Walk is an event that is attended by thousands of people and raises hundreds of thousands of dollars for individuals with Down syndrome and their families. The trust that has been instilled within me to work on such an important project is both motivating and rewarding. Additionally, all of the employees at DSANEO have my passions and interests at heart and they are constantly working with me to help set me up for success and achieve my goals.
What has been the most challenging aspect of your internship experience?
The most challenging aspect of my internship experience was learning to speak up and give suggestions. Because the Buddy Walk is something that happens annually, the planning process can appear to be a routine. However, I quickly learned that the reason the Buddy Walk is such a huge success is because it is ever changing and every year is tailored to suit the audience.
How has this internship helped you grow professionally & personally?
I began this internship with little experience with working in a professional setting. I was intimidated by the hours and because of my inexperience and I was unsure how my schedule would look between my internship and my personal life. However, I quickly learned that working a 9-5 job is something that takes acclimation and getting used to. Consequently, as I establish a routine in my workday, it helps me become more focused on the tasks I need to complete outside of work. Ultimately, working at DSANEO helped me learn how attainable a positive work life balance is and how achievable personal productivity is with time management skills and prioritization.
Where would you take a friend who is visiting Cleveland for the first time?
If I were showing a new visitor around Cleveland, I would take them to a restaurant in Ohio City with outdoor seating and then to a Guardians game after!
What advice would you give to someone considering applying for the Cleveland Foundation Summer Internship Program?
The advice that I would give to someone that is applying for the Summer internship Program is to be open minded, moldable and genuine. Let your passions speak for themselves. Most importantly, allow yourself to feel challenged and discomfort throughout the application and interview process, and then even more throughout the summer internship. As you continue to learn and grow within your organization, your professional goals and visions become sharper and feel more attainable.
Learn more about spending a #SummerOfPurpose as a Cleveland Foundation intern.