Filter By Department
Administration
Leslie A. Dunford
Administration
Vice President for Administration and Strategic Projects
216.615.7152 |
Leslie Dunford manages the foundation's facilities, office services, and risk-management programs, and serves as the executive director of Suite 1300 Services, Inc., an affiliate of the Cleveland Foundation that provides support services to the foundation's resident-led, community-building program. 
From 1997 through 2014, Leslie also served as the foundation's corporate secretary and liaison to its board of directors and legal counsel, advising on matters of regulatory compliance and governance. 
A graduate of Cleveland Bridge Builders and Leadership Cleveland, Leslie serves on the boards of Philanthropy Ohio and Vocational Guidance Services.  She is a former trustee of the Cleveland Leadership Center. Leslie is an honorary life trustee of Youth Opportunities Unlimited and a past recipient of the YWCA's Women of Professional Excellence award. From 2005 through 2011, Leslie served as a standards reviewer for the Community Foundations National Standards Board. She has a Certificate for Non-Profit Board Consulting from BoardSource.
Leslie earned a bachelor's degree in communications from Gannon University in Pennsylvania.
Ellen Koonce
Administration
Office Services Coordinator
216.615.7144 |
Ellen joined the Administrative Services team of the Cleveland Foundation in 2015 as the organization's receptionist. In the fall of 2016, Ellen assumed the role of Administrative Services Coordinator, and in summer 2019, she assumed the role of Office Services Coordinator. She is responsible for office space mapping technology and provides oversight on daily maintenance issues, serves as liaison with building maintenance and is responsible for the implementation of a broad range of office services in addition to the operation of the Steven A. Minter Conference Center.
Prior to her assignment at the foundation, Ellen worked for 12 years at the Cleveland Housing Network, most recently as the Administrative Program Manager. In this role, she was responsible for the coordination of support services for low-income programs serving over 28,000 customers as well as the oversight of the programs' $21.5 million budget. 
Ellen studied business administration at David N. Myers College and earned a certificate in customer service management facilitation from Kent State University.  She is also a certified notary public.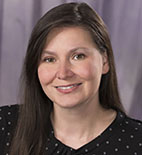 Bridget Soeder
Administration
Reception and Safety Coordinator
216.861.3810 | 
Bridget joined the Administrative Services team in November 2016. In this role, she is often the first point of contact for guests, staff, and community business partners. She also provides general administrative and project support throughout the organization and is responsible for safety and security policies, procedures and programs. Previously, Bridget has held a diverse variety of administrative roles in the for-profit and non-profit sectors. Most recently, she served as a job coach in the summer youth employment program for Youth Opportunities Unlimited. Prior career experience included positions at Alego Health, Telarc International, and the Mary T. and Frank L. Hoffman Family Foundation.
As a Ohio Certified Volunteer Naturalist (via the Ohio State University Extension/Ohio Department of Natural Resources), Bridget is actively involved in the community and outdoor education. She is also a volunteer for the Cleveland Metroparks and Stan Hywet Hall and Gardens.