Filter By Department
Gift Planning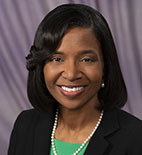 Terri Eason
Advancement
Director of Gift Planning
Administrative Assistant: Linda Gersten 216.615.7143

Terri Bradford Eason manages the foundation's Gift Planning Program as a member of the Advancement team. Her primary focus is cultivating relationships that help individuals establish current and deferred philanthropic funds, legacy gifts and charitable giving strategic plans. As such, Terri works closely with professional advisors and their clients to identify, create and provide charitable planning options tailored to achieve specific philanthropic goals. 
Terri joined the Foundation in October 2008 after gaining two decades of experience in the financial services industry. She had several positions with National City (now PNC) and supported several functions including wealth management, relationship management, new business development, and both private and corporate banking. As director of nonprofit business services, she was responsible for new business development and relationship management of nonprofit and higher education organizations. Throughout her tenure, Terri was dedicated to quality service for which she received the company's NCC Excel Award for extraordinary client and community service. She also was the recipient of the YWCA Women of Professional Excellence Award, TLOD Status of Women Award, and the NCNW Phenomenal Women of Extraordinary Leadership and Service Award. 
Terri has served the nonprofit community as a director on several area nonprofit boards, including Cleveland Hearing and Speech Center (Past-Board President), Recovery Resources, Junior Achievement, and the Women's City Club Foundation. Currently, she is President of the Alpha Omega Chapter of Alpha Kappa Alpha Sorority, Incorporated, and the Chairman of Alpha Omega Foundation, Incorporated. In addition, she serves on the Legacy Village Lyndhurst Community Fund Committee and is a member of the National Black MBA Association, Inc., Beta Gamma Sigma National Honor Society, Cleveland Chapter of Links, Inc., and Jack & Jill of America, Inc. She earned her Master of Business Administration degree from Cleveland State University and a Bachelor of Arts degree from Penn State University.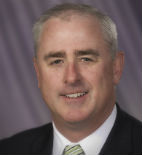 Kevin J. Lenhard
Advancement
Gift Planning Advisor
Administrative Assistant: Linda Gersten 216.615.7143

Kevin J. Lenhard joined the Cleveland Foundation in August 2014. He focuses primarily on cultivating relationships with professional advisors in the Cleveland community and surrounding areas. Through these partnerships, he assists professional advisors and their clients in establishing strategic philanthropic plans with the foundation. Additionally, Kevin consults with individuals, families, nonprofit organizations and businesses to help them identify and achieve their charitable interests and goals.
Prior to joining the foundation, Kevin was in private law practice representing individuals, families and small businesses in estate and tax planning, litigation and business advisory matters. Kevin previously held Senior Manager and Director positions in the tax practices of Ernst & Young LLP and PricewaterhouseCoopers LLP, respectively, where he provided consultation to U.S. multinational clients in federal and international tax matters.
Kevin has served as board president of Seeds of Literacy and on the Alumni Council at St. Ignatius High School. He currently serves on the Advancement Committee of the West Side Catholic Center.  Kevin is also a member of the Estate Planning Council of Cleveland and the Northeast Ohio Planned Giving Council.
Kevin earned his Bachelor of Business Administration in finance from the University of Notre Dame. He received his law degree from Cleveland-Marshall College of Law and an LL.M. in taxation from Case Western Reserve University School of Law.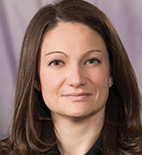 Katie Collin Moore
Advancement
Gift Planning Officer
216.615.7174 |
Katie joined the Cleveland Foundation's Advancement Team in February 2016.  She focuses on providing individuals, families and organizations with information regarding current and deferred charitable giving options.  In addition, Katie works closely with professional advisors and their clients to identify those options that will achieve specific philanthropic planning goals.
Prior to joining the Foundation, Katie was a member of The Cleveland Clinic Foundation's Philanthropy Institute for over five years, most recently serving as a Director of Gift Planning.  She provided charitable gift, tax and estate planning services to individuals and families with an interest in supporting the Cleveland Clinic health system.  Katie previously held positions at Hickman & Lowder Co., LPA and The Legal Aid Society of Cleveland.
Katie serves on the board of the Smith College Club of Cleveland,  and assists with their internship program through Summer on the Cuyahoga.  She was a member of the Lakewood Foundation Planning Taskforce that launched the Healthy Lakewood Foundation in September 2018.  Katie is a member of the Cleveland Metropolitan Bar Association, the Partnership for Philanthropic Planning, the Northern Ohio Charitable Gift Planners and serves on the membership committee for the Estate Planning Council of Cleveland.
Katie earned her Bachelor of Arts in art history from Smith College and received her law degree from the University of Akron School of Law.