Filter By Department
Human Resources
Monica Brown
Human Resources
Vice President, Human Resources
Executive Assistant: Carmela Beltrante 216.615.7172
Monica Brown is a highly regarded and recognized human resources professional and business leader that has been with the foundation since January 2007.  In her current role as Vice President for Human Resources & Administration, Monica is a valued member of the leadership team, responsible for the ongoing, organization-wide development of human capital strategies that align with the foundation's mission, values and strategic objectives, promoting a culture that ensures the foundation's ability to attract, engage and retain the most talented employees. 
Monica also oversees the foundation's Administrative Services team, ensuring that programs focused on internal service, employee safety/security and business continuity are employee-focused, comprehensive and continually evaluated for effectiveness.  Prior to her role at the foundation, she was the human resources leader for the Western Reserve Historical Society. 
Monica earned a bachelor of science from Kent State University and a master's degree in labor relations and human resources management from Cleveland State University. She is certified as a senior human resources professional by both the HR Certification Institute and the Society for Human Resources Management (SHRM).   In addition, Monica was awarded the distinction of Business Leader in both the 2012 and 2016 HR Awards, sponsored and presented by the Employers Resource Council (ERC) and the Cleveland Chapter of SHRM. 
Being actively involved in the community is equally as important as her role within the foundation.  In 2013, Monica founded the Collaboration for Nonprofit HR Professionals.  This important initiative, supported by the Cleveland Foundation, Thompson Hine, LLC, Oswald Companies and ERC, provides educational and networking opportunities for nonprofit HR professionals that focus on building the capacity of the human resources function across Northeast Ohio nonprofits.   Monica also serves as the chair of the HR Committee of the board of directors for Beck Center for the Arts. 
Danielle Hanna
Human Resources
Human Resources Manager
216.685.2039 | dHanna@CleveFdn.org
Danielle Hanna joined the foundation as a human resources generalist in August 2008 and was promoted to human resources manager in 2011. Earlier, she worked in human resources and employee benefits at IMG, a global sports, fashion, and media business. 
She holds a bachelor's degree in communications from Baldwin Wallace and is a certified professional in human resources. Danielle is an (i)Cleveland mentor with the Cleveland Leadership Center and is a member of the Society for Human Resources Management.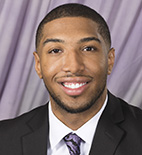 Jaelen Hollinger
Human Resources
Human Resources Generalist
216.685.2039 | 
Jaelen joined the Cleveland Foundation in June 2017 as Human Resources Generalist after serving as an intern with the human resources team from January-May of 2017. Jaelen supports the HR team and other organizational leaders in the research, implementation and execution of human capital initiatives and programs.
Jaelen graduated in May 2017 with a bachelor of arts in human resources management and a minor in entrepreneurship from Baldwin Wallace University, where he also played varsity basketball. He was recognized at the university's Obie Bender Multicultural Awards, which acknowledge the accomplishments of diverse students and others who advance diversity and inclusion.
Jaelen is very committed to the community in which he lives. He is a member of the Cleveland Leadership Center's (i)Cleveland Advisory Committee and an active affiliate for The Cutting Board Academy, an organization whose mission is to impact communities by educating children and their families on the importance of food and nutrition.