Cleveland chain reaction takes major steps forward in bringing $1M investment to a city neighborhood
Five investors and neighborhood finalists are announced
Release Date: 4.3.2017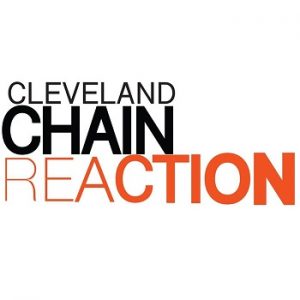 CLEVELAND, OH – Major developments are taking place with The Cleveland Chain Reaction, an economic development project that will match local investors with local entrepreneurs to open five new businesses in a city of Cleveland neighborhood in 2017. The Cleveland Chain Reaction follows in the footsteps of LeBron James' Cleveland Hustles, a reality television series that aired on CNBC in 2016. This effort, which is being produced by Cleveland Neighborhood Progress, the Council of Smaller Enterprises (COSE) and GlazenUrban, along with media partner WJW Fox 8, will deliver up to $1 Million of investment.
Five local investors have committed to the project. These city advocates have each pledged a minimum of $130,000 to invest in a local scale-up business. Collectively, the five new businesses that open during the Chain Reaction will bring jobs and additional economic activity to the city. The five investors are:
Fred Geis, owner of Hemingway Development
Andrew Jackson, owner of Elson's International
Lillian Kuri, representing the Cleveland Foundation
Justin Miller, owner of CleanLife Energy
Claudia Young, owner of Velvet Tango Room & Citizen Pie
Cleveland Neighborhood Progress is coordinating the neighborhood competition to host Cleveland Chain Reaction. Community development corporations (CDCs) representing a total of ten Cleveland neighborhoods formally expressed an interest in hosting this competition, outlining location, economic development trends, recent successes, existing opportunities, and available real estate. The work of these CDCs is vital to driving success and investment in their local communities.  The four neighborhood finalists and target areas are:
Clark Fulton/La Villa Hispana – West 25th Street and Clark Ave.
North Shore Collinwood – East 185th Street
Slavic Village – Fleet Ave.
Clair Superior – St. Clair Ave. (from East 50th Street to East 69th Street)
Cleveland Chain Reaction is now accepting applications for businesses who are interested in being considered as one of the final five companies who will work with our investors to build a new business in the chosen city of Cleveland neighborhood. 
While inspired by Cleveland Hustles, The Cleveland Chain Reaction is an independent and unrelated effort with some of the same Clevelanders involved to support the continued economic development opportunity that Hustles sparked. Cleveland Neighborhood Progress is a local community development intermediary working to foster inclusive neighborhoods of choice and opportunity in Cleveland. COSE is a small business support organization providing Northeast Ohio business owners networking and educational events and programs, advocacy on legislative and regulatory issues and cost-effective group purchasing programs. GlazenUrban is a private community development company founded by Alan Glazen, who also served as an investor on Cleveland Hustles. It invests private funds in neighborhood commercial real estate, and in entrepreneurs proven ready to ramp up in those areas to create jobs, attract residents and visitors, and generate sustainable profitability.
Learn more about Cleveland Chain Reaction at www.clevelandchainreaction.org