Cleveland Metroparks and Cleveland Foundation Announce Centennial Trail 5K
All registration fees to benefit the Cleveland Metroparks Emerald Necklace Endowment Fund of the Cleveland Foundation
Release Date: 8.2.2018
CLEVELAND – Cleveland Metroparks and the Cleveland Foundation are holding the first annual Cleveland Metroparks and Cleveland Foundation Centennial Trail 5K on September 22, 2018. Participants are invited to enjoy the newest urban trails connecting Cleveland's downtown area neighborhoods.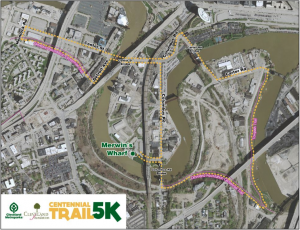 The 5K fun run & walk begins at the trailhead near the Columbus Street bridge along Cuyahoga River's Irishtown Bend and connects to the Scranton Peninsula segment of the Cleveland Foundation Centennial Lake Link Trail. The 5K then cuts north along a portion of the Towpath Trail. Towards the finish line, the route travels along the newest half-mile section of the Cleveland Foundation Centennial Lake Link Trail from River Road to Detroit Avenue in the West Bank of the Flats. Along the route, enjoy some of the best scenic views of the skyline and Cuyahoga River that the city has to offer.
"Surrounded by remnants of Cleveland's rich industrial history, the Cleveland Foundation Centennial Trail Lake Link and surrounding green space has truly become a modern recreational hub," said Brian Zimmerman, Cleveland Metroparks CEO. "The ever-evolving trail network continues moving Cleveland Metroparks closer to its vision of providing access for all Cleveland residents through these new connections."
Save when you sign up in advance! Adult registration is $20 online and $15 for participants 11 years old and under. On-site registration is $30 the day of the race and $20 for participants 11 and under. Children under 2 are free. One hundred percent of the proceeds from the Cleveland Metroparks & Cleveland Foundation Centennial Trail 5K registration will benefit the Emerald Necklace Endowment Fund of the Cleveland Foundation. The Emerald Necklace Endowment Fund generates annual income that helps Cleveland Metroparks conserve natural resources through land and wildlife stewardship, provide outdoor recreation for all ages, and facilitates recreation opportunities for all ages.
"For more than 100 years, we have partnered with the Cleveland Metroparks to protect and activate the incredible green spaces throughout our community," said Michael Murphy, Cleveland Foundation Chief Marketing Officer. "Ever since we announced the Cleveland Foundation Centennial Trail Lake Link in 2014, Greater Cleveland has embraced this valuable community asset. We can't wait for even more residents and families to experience this game changing connection to the river and Lake Erie."
Participants will all receive a Centennial Trail 5K event t-shirt and access to the Centennial Trail 5K after party at Merwin's Wharf from 9 a.m. to noon. Enjoy live music, light snacks and refreshments along the Cuyahoga River. Additional menu discounts will be available.
Event check-in will begin at 8 a.m. and the run & walk will kick-off at 8:30 a.m. In its inaugural year, the Centennial Trail 5K is not a competitive race; this fun run/walk will have timing available for personal tracking purposes.
Register online today at clevelandmetroparks.com/5K.