Cleveland Foundation unveils dynamic downtown panorama as part of #ClevelandYearbook; launches text-to-give capability
RELEASE DATE: 12.01.2015
CLEVELAND – The Cleveland Foundation is marking #GivingTuesday with a twist by unveiling a "gift" Greater Clevelanders can enjoy: a dynamic, 360-degree skyline photo of the downtown area accessible via: clevelandyearbook.com. The image consists of more than 1,300 mega high-res pictures taken from atop the Terminal Tower in all directions and fused to form an immersive experience allowing users to zoom with incredible depth on key landmarks and explore their community in digital fashion.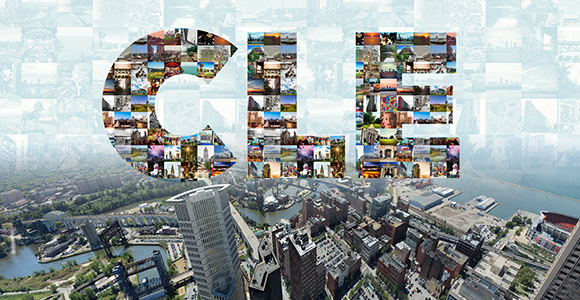 From the interactive photo, users can dive into the #ClevelandYearbook, the foundation's 2015 community report, featuring stories from across its grantmaking priorities as well as a photo gallery that allows users to "sign" the report by tagging their own favorite Cleveland photos with #ClevelandYearbook on Instagram.
"We hope Greater Clevelanders enjoy this unique perspective on their city, the gorgeous photographs, and the countless stories of opportunity and hope developing all around," said President & CEO Ronn Richard. "In a season of kindness and generosity, the Yearbook celebrates the very best of our shared accomplishments and sets our sights on a limitless 2016."
For #GivingTuesday, the foundation also launched its first text-to-give option allowing cell phone users to text CLEVELAND to 27722 to donate $10 to the foundation and COMMUNITY to 27722 to donate $25. When prompted, users must reply to complete their donation. Message and data rates may apply, and full terms are available at mGive.org/T.
***
Established in 1914, the Cleveland Foundation is the world's first community foundation and one of the largest today, with assets of $2.2 billion and 2014 grants of $98 million. Through the generosity of donors, the foundation improves the lives of residents of Cuyahoga, Lake and Geauga Counties by building community endowment, addressing needs through grantmaking, and providing leadership on vital issues. The foundation tackles the community's priority areas – economic transformation, public-school improvement, youth development, neighborhood revitalization, and arts advancement – and responds to the community's needs.
For more information on the Cleveland Foundation, visit www.clevelandfoundation.org/100Plus1 and follow us on  Facebook.com/ClevelandFoundation, Twitter @CleveFoundation and Instagram @CleveFoundation