Cleveland Foundation announces $5 million centennial legacy grant for Lake Link Trail
"Cleveland Foundation Centennial Trail" will increase public access to Lake Erie, connecting the riverfront to the lakefront
EMBARGOED UNTIL 11 a.m. 8.19.14
CLEVELAND – The Cleveland Foundation board of directors today announced an additional centennial legacy grant of $5 million to The Trust for Public Land for the Lake Link Trail project. The gift, commemorating the foundation's 100 years of impact in Greater Cleveland, was unveiled during a community event at Rivergate Park.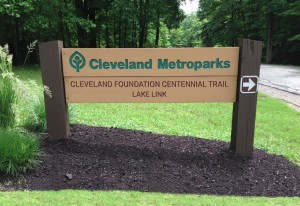 The Lake Link Trail will connect with the Ohio & Erie Canal Towpath at the southern end of Scranton Peninsula and traverse a transformed 1.3-mile abandoned railroad right-of-way through the West Bank of the Flats, terminating at Wendy Park on Whiskey Island.
The Cleveland Foundation's centennial legacy grant series is in addition to the foundation's annual grantmaking (2013: $89 million) in support of the community's priority areas: economic transformation, public school improvement, youth development, neighborhood revitalization and arts advancement. This latest grant represents $13 million in commitments in the past month to creating high-quality public spaces for Greater Cleveland residents, including $8 million in support of the transformation of Public Square, announced July 15.
Project officials said the Lake Link Trail will be renamed "Cleveland Foundation Centennial Trail" in recognition of the foundation's commitment to the project and its century-long mission of enhancing the lives of Greater Clevelanders through place-based philanthropy.
"Lake Erie is our region's most prized natural asset, yet too many residents have never been to the shores of the largest freshwater system on Earth," said Ronn Richard, Cleveland Foundation President and CEO. "By helping to connect Cleveland to our lakefront, we can promote healthy living, stimulate economic development and, ultimately, create a green city on a blue lake. We can't imagine a more fitting tribute to the people and the place that not only created our foundation 100 years ago, but continue to partner with us in our second century of place-based impact."
As part of its Parks for People – Cleveland program, The Trust for Public Land is collaborating with Cleveland Metroparks, the city of Cleveland, Cuyahoga County, LAND Studio, Inc. and additional community partners to increase parkland and trails that connect Cleveland neighborhoods with Lake Erie at Whiskey Island.
"The Cleveland Foundation's significant financial commitment to the Lake Link Trail project is a commitment to improving the quality of life for Clevelanders," said Cleveland Mayor Frank G. Jackson. "It will support our efforts to enhance our neighborhoods, provide opportunities for residents to connect with the lake and encourage a healthy lifestyle."
The foundation's efforts to improve access to the region's natural assets began in its first decade. Cleveland Metroparks was established partly as a result of a 1919 study, one of the first the foundation commissioned, that spurred public funding, purchase and assembly of parkland. With the support of a $100,000 grant from the foundation in 1977, The Trust for Public Land played a key role in acquiring 30,000 acres of land for the Cuyahoga Valley National Park around Blossom Music Center and along the Towpath Trail.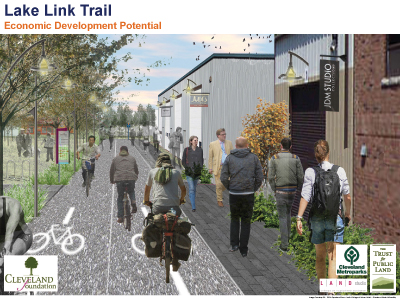 "People in Cleveland are eager to get outdoors, enjoy nature and exercise, and completing the Lake Link Trail will connect us to more of our growing parks system," said Pam Carson, Ohio Director for The Trust for Public Land. "This generous grant from the Cleveland Foundation will connect thousands of residents to the breathtaking views of Wendy Park and Whiskey Island. This project has national significance, and we look forward to sharing with other cities the transformational work that is happening in Cleveland."
Last year, the foundation granted $200,000 to support the transition of the lakefront parks to Cleveland Metroparks, Wendy Park and Whiskey Island among them.
"The Cleveland Foundation Centennial Trail will attract residents and visitors to the lakefront to celebrate this remarkable asset," said Cleveland Metroparks CEO Brian Zimmerman. "This grant is evidence that the Cleveland Foundation is truly the community's foundation, improving access to and awareness of our city's great strengths and helping to build new assets for future generations of proud Clevelanders."
The Cleveland Foundation's centennial legacy grant series commenced in September 2012 with the announcement of $10 million to support Case Western Reserve University's new medical education and research building. In 2013, the foundation announced plans to commit $10 million in grants to create a local Encore program, part of a national movement to utilize the time and talents of Americans aged 50-plus for the betterment of their communities. The $8 million for revitalization of Public Square – scheduled to be completed in spring 2016 – includes the new Cleveland Foundation Centennial Plaza.
In addition to these extraordinary legacy grants, the foundation has celebrated its centennial through monthly gifts to the community. To date, the foundation has partnered with 12 nonprofit organizations for these centennial gifts, which highlight community assets the foundation has played a role in establishing or enhancing through the years.
***
Established in 1914, the Cleveland Foundation is the world's first community foundation and one of the largest today, with assets of $2.1 billion and 2013 grants of $89 million. Through the generosity of donors, the foundation improves the lives of Greater Clevelanders by building community endowment, addressing needs through grantmaking, and providing leadership on vital issues. The foundation tackles the community's priority areas – economic transformation, public-school improvement, youth development, neighborhood revitalization, and arts advancement – and responds to the community's needs.
For more information on the Cleveland Foundation, visit ClevelandFoundation.org/Purpose and follow us at Facebook.com/ClevelandFoundation or @CleveFoundation on Twitter.
The Trust for Public Land creates parks and protects land for people, ensuring healthy, livable communities for generations to come. Nearly ten million people live within a ten-minute walk of a Trust for Public Land park, garden, or natural area, and millions more visit these sites every year. Learn more at tpl.org.
Cleveland Metroparks is a separate political subdivision of the State of Ohio. The Park District conserves significant natural resources and enhances people's lives by providing safe, high-quality opportunities for outdoor education and recreation. Cleveland Metroparks comprises nearly 23,000 acres and is the largest landholder in Cuyahoga County. It is responsible for the management of 18 distinct park reservations, hundreds of miles of trails and parkways, beaches, eight golf courses, seven visitor/nature centers and Cleveland Metroparks Zoo.