Cleveland Foundation to host fourth biennial African-American Philanthropy Summit presented by Medical Mutual
Political strategist Donna Brazile to deliver keynote address
RELEASE DATE: 3.23.2016
CLEVELAND – The African-American Philanthropy Committee of the Cleveland Foundation will host its fourth biennial African-American Philanthropy Summit and luncheon, presented by Medical Mutual, on Saturday, April 23, from 8 a.m. to 1:30 p.m., at Corporate College East in Warrensville Heights. This year's Summit theme, "Impact & Influence: The Evolution of African-American Giving," celebrates existing philanthropists and serves as a call to action for aspiring philanthropists to develop their own philanthropic legacy.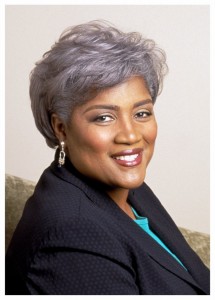 This half-day event will begin with an engaging opening session and educational seminar featuring nationally-recognized communications specialist and Cleveland native Jeff Johnson. With the political spotlight on Cleveland as July's Republican National Convention approaches, political strategist Donna Brazile will serve as the luncheon keynote speaker. A Q&A session following the keynote address will be moderated by Russ Mitchell, Managing Editor and Lead Anchor, Evening News, WKYC
Channel 3.
Nationally renowned political strategist Donna Brazile is Vice Chair for Civic Engagement and Voter Participation at the Democratic National Committee, and former interim National Chair of the Democratic National Committee as well as the former chair of the DNC's Voting Rights Institute.
Brazile has worked on every presidential campaign from 1976 through 2000, when she became the first African-American to manage a presidential campaign. She is the author of the best-selling memoir "Cooking with Grease: Stirring the Pots in American Politics," an adjunct professor at Georgetown University, a syndicated newspaper columnist for Universal Uclick, a columnist for Ms. Magazine, and O, The Oprah Magazine, and an on-air contributor to CNN, and ABC, where she regularly appears on This Week.
Appointed by President Barack Obama to serve on the Fulbright Board, Brazile also sits on the boards of the National Democratic Institute, the Professional Diversity Network, the National Institute for Civil Discourse, Joint Center for Political and Economic Studies, and the BlackAmericaWeb.com Relief Fund, Inc. She also serves as Co-Chair for Democrats for Public Education.
Jeff Johnson is an award-winning journalist, communications specialist, and thought leader. He is currently president of the Baltimore-based strategy firm JIJ Communications. In this role, he provides strategic insight and messaging consulting to clients in the private, public, and nonprofit sectors. Johnson is the CEO and co-founder of Elite Voices Speakers, a premier bureau he founded with journalist Marc Lamont Hill. He provides regular content on TheRoot.com and the nationally syndicated Rickey Smiley Morning Show.
The Summit will also feature the Philanthropy Tank, a new innovative funding initiative modeled after the popular television show "Shark Tank." The Philanthropy Tank was designed to give nonprofits an opportunity to introduce their cause and build the case for support in front of Summit participants. Several nonprofit organizations submitted applications and were selected based on specific criteria and score. A cash prize of at least $5,000 will be awarded to the winning nonprofit by a group of judges, and at least $2,500 each will be awarded to second- and third-place.
The African-American Philanthropy Committee was created as an advisory committee of the Cleveland Foundation in 1993 under the leadership of former Cleveland Foundation President and Executive Director Steven A. Minter. It has served as a national model in community engagement. The committee launched the Summit in 2010 as a signature event to engage the African-American community on the various ways to give back to the community.
The event is open to the public, but tickets are required. Registration details are available at http://bit.ly/CLESummit or by calling 216-615-7199.
Summit Schedule Highlights
8:45 a.m.  –   Welcome & Morning Speaker: Jeff Johnson
9:15 a.m.   –   Philanthropy Tank Sessions: Arts & Culture, Economic Development & Education
11 a.m.       –   Philanthropy Tank Winner Overview
12:20 p.m. –   Keynote Address by Donna Brazile with moderated Q&A by Russ Mitchell, Managing Editor and Lead Anchor, Evening News, WKYC Channel 3.
***
The Cleveland Foundation
Established in 1914, the Cleveland Foundation is the world's first community foundation and one of the largest today, with assets of $2.1 billion and 2015 grants of $95 million. Through the generosity of donors, the foundation improves the lives of residents of Cuyahoga, Lake and Geauga counties by building community endowment, addressing needs through grantmaking, and providing leadership on vital issues. The foundation tackles the community's priority areas – education and youth development, neighborhoods, health and human services, arts and culture, economic development and purposeful aging – and responds to the community's needs.
For more information on the Cleveland Foundation, visit www.clevelandfoundation.org, and follow us on Facebook.com/ClevelandFoundation, Twitter @CleveFoundation and Instagram @CleveFoundation.