Western Reserve Land Conservancy's Jim Rokakis honored with Cleveland Foundation's Homer C. Wadsworth Award
release date: 6.8.2016
CLEVELAND – The Cleveland Foundation today honored Jim Rokakis, Vice President of the Western Reserve Land Conservancy and Director of Thriving Communities Institute, with its 2016 Homer C. Wadsworth Award. The award is given annually to a local leader who has demonstrated creativity, innovation, risk-taking and good humor in a civic, volunteer, nonprofit or public sector role. Rokakis received the award at the 2016 Cleveland Foundation Annual Meeting presented by KeyBank.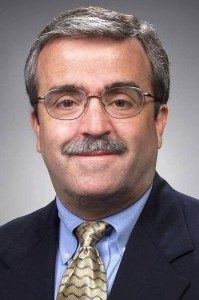 Rokakis' career in public service has spanned 33 years, having served 19 years as a Cleveland City Councilmember and a decade as Cuyahoga County Treasurer before assuming his leadership role at Western Reserve Land Conservancy. Among his many accomplishments, he was instrumental in the passage of a state law allowing for the creation of county land banks. As director of Thriving Communities Institute, he has helped raise more than $327 million for blight removal in Ohio's communities and more than $2.5 billion nationally through Hardest Hit Fund reallocation. Rokakis has become one of the nation's leading experts on the foreclosure crisis and neighborhood revitalization.
"Jim has devoted his professional life to making Greater Cleveland a stronger, more vibrant community," said Ronn Richard, president & CEO of the Cleveland Foundation. "Jim's vision and tenacity have played a key role in the reinvention of dozens of blighted neighborhoods throughout Northeast Ohio and in the redevelopment of downtown Cleveland. His efforts will have a lasting impact on our region for generations to come, a true embodiment of the spirit of Homer Wadsworth."
Rokakis has received numerous local, state and national awards, including being named "County Leader of the Year" by American City & County Magazine in 2007. He earned his undergraduate degree at Oberlin College and his Juris Doctorate degree from Cleveland-Marshall College of Law.
Homer C. Wadsworth was executive director of the Cleveland Foundation from 1974 to 1983. He was known as a man of creativity, courage, commitment and innovation. Prior to his death in 1994, Wadsworth's friends and family established the Homer C. Wadsworth Award to identify and honor those in the community who best reflect those qualities. Recent past recipients have included: Vickie Eaton Johnson, who was then director of Fairfax Renaissance Development Corporation; Art Falco, president and CEO of Playhouse Square; Steven Standley, chief administrative officer of University Hospitals of Cleveland; and John Zitzner, president of Friends of Breakthrough Schools.
***
Established in 1914, the Cleveland Foundation is the world's first community foundation and one of the largest today, with assets of $2.1 billion and 2015 grants of $95 million. Through the generosity of donors, the foundation improves the lives of residents of Cuyahoga, Lake and Geauga counties by building community endowment, addressing needs through grantmaking, and providing leadership on vital issues. The foundation tackles the community's priority areas – education and youth development, neighborhoods, health and human services, arts and culture, economic development and purposeful aging – and responds to the community's needs.
For more information on the Cleveland Foundation, visit www.clevelandfoundation.org and follow us on  Facebook.com/ClevelandFoundation, Twitter @CleveFoundation and Instagram @CleveFoundation.