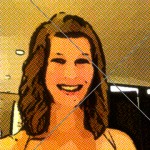 First, let me explain my picture. I was inspired by the art posted on a building in Collinwood during a professional development seminar hosted by North East Shores Development, another host site. I couldn't resist incorporating the unique art I experienced into my blog post because it was beautiful.
I don't think I will ever forget sitting in class waiting for the call to find out if I was selected to be part of the 2012 Cleveland Foundation Internship Program. I was so happy to hear Ciba cut straight to the point and tell me that LEEDCo would like to offer me the position with their organization. My eyes welded with tears, I was overjoyed and I blurted out, "Yes, yes, of course."
It was a good month or two wait before I would show up to orientation to greet the rest of my class, which consists of outstanding, exemplary students I am proud to work hand in hand with. Orientation really made me feel elite, knowing the process was so rigorous and we were the final seventeen to make it. It is such an amazing opportunity; I feel truly honored to work among the finest of Cleveland.
LEEDCo is a smaller non-profit organization; however, the immense support and energy streaming from the team does not reflect their size. Icebreaker, their initial project, is to have 5-9 offshore wind turbines installed in 2014. This is a first for Ohio and even North America. President Lorry Wagner and his team of four works tirelessly to outreach to the community and educate fellow Ohioans on the benefits that offshore wind turbines could bring to Cleveland.
I was asked to come in and revamp their branding a bit. From creating a new coloring sheet with facts for children and parents to complete together, to designing two shirts and even analyzing and expanding the organizations social media initiatives. I look forward to coming in every day, I love what I do and the creative freedom I have to really mold LEEDCo's brand and inform every one of LEEDCo's initiatives.
It's only been one and half weeks and I can't wait to see what the rest of the program has in store. Thank you to The Cleveland Foundation and LEEDCo for making this possible.
Each week we use this space to give each of our interns the chance to reflect on their internship experiences. Jennie Ford, a senior at Cleveland State University, will be placed at Lake Erie Energy Development Corporation (LEEDCo). Jennie is responsible for visually enhancing LEEDCo's strategic campaign to effectively communicate the benefit of offshore wind to the general public, companies and elected officials.