In early October, we issued a call to our nonprofit and public sector partners to apply to host a Cleveland Foundation intern for the summer of 2013. Out of a pool of 90 applications, we selected 17 projects (see list  below) that address a variety local challenges and opportunities, from adult literacy and youth development/empowerment to local foods and economic development.
At this time, we are issuing a challenge to Cleveland's best and brightest – are you a college student or do you know a college student who is up for the challenge?  To qualify for the program, you must:
Be a student of a local college or university in Cuyahoga, Lake, or Geauga counties, or be a resident of Cuyahoga, Lake, or Geauga
Have a strong academic record
Have strong research, computer, and verbal and written communication skills
Have an interest in the nonprofit or public sector
Stay tuned … application instructions will be posted on our website shortly.
2013 Summer Internship Program Host Sites
Campus District, Inc., is a community development organization that is redefining itself, its role, and purpose within the educational and medical district anchored and guided by the top level leadership from Cleveland State University, Cuyahoga Community College, St. Vincent Medical Center, and the Plain Dealer.
City of Lakewood's department of planning and development coordinates long-range planning, zoning, and economic development for the city as well as administers the federal Community Development Block Grant Funds awarded to Lakewood by the U.S. Department of Housing and Urban Development.
The Cleveland Foundation is the world's first community foundation and one of the largest today, with assets of $1.8 billion. Through the generosity of donors, the foundation improves the lives of Greater Clevelanders by building community endowment, addressing needs through grantmaking, and providing leadership on vital issues.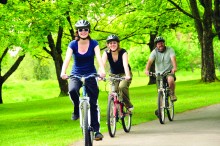 Cleveland Metroparks is Cleveland's "Emerald Necklace," an open space of natural beauty and diversity. The Metroparks is dedicated to conservation, education and recreation. It offers an array of facilities and opportunities from golfing and fishing, to water and winter recreation areas, wildlife areas, outdoor education, recreation programs, and Cleveland Metroparks Zoo.
Cleveland Rowing Foundation promotes and shares the athletic, health, educational, and social benefits of rowing throughout Greater Cleveland. It works in concert with community partners to enhance the recreational quality of the Cuyahoga River.  Each year, it hosts more than 1,000 high-school, collegiate, and adult athletes on the banks of the Cuyahoga River in downtown Cleveland.
Economic and Community Development Institute's mission is to invest in people to create measurable and enduring social and economic change. ECDI's programs and services have grown into a comprehensive suite of programming designed to lead low-income Ohioans out of poverty. Program participants are given the training, tools, and assistance they need to earn living wage incomes in the short term and purchase and maintain assets for the future.
Famicos Foundation provides a broad range of services such as real-estate development and historic preservation, affordable and market-rate housing choices, community engagement, and sustainability programming to Greater Cleveland residents with targeted efforts in the southern Glenville-Wade Park neighborhood.
Foundation Center was established in 1956 and today is supported by close to 550 foundations. It is a leading source of information about philanthropy worldwide. Through data, analysis, and training, it connects people who want to change the world to the resources they need to succeed. Thousands of people visit the center's website each day and are served in its five regional library/learning centers and its network of 470 funding information centers located in public libraries, community foundations, and educational institutions nationwide and beyond.
GroundWork's mission is to bring the passion and verve of modern and contemporary dance into the hearts and minds of the people of Northeast Ohio.
Lake Erie Ink provides creative writing programming to youth during after school, evening, and weekend programs in a large and engaging space in Cleveland Heights.
LAND Studio (LAND) is an acronym that describes the approach and focus of the organization, which is to: Green Cleveland's Landscape with attractive, active, and accessible public parks; Inspire our city's people with temporary, permanent, and performance public Art;  Unite Neighborhoods through collaborative planning and dynamic programming; and enrich communities by supporting and facilitating sustainable building and smart Development.
Lesbian Gay Bisexual Transgender Center Community Center (LGBT) is working toward a society free of homophobia and gender identity oppression by advancing the respect, human rights, and dignity of the LGBT communities. Over the past 37 years, the center has grown to offer support, referral, social, health, and educational services to hundreds of LGBT individuals each month.
North Union Farmers Market's mission is to champion local foods in Northeast Ohio and to promote its environmental, economic, and health benefits by connecting certified producers with consumers through a network of markets.
Open Doors Academy exists to protect, inspire, nurture, and challenge adolescents to reach their full potential through the provision of meaningful out-of-school enrichment activities in a safe and structured environment. ODA is the only program in Northeast Ohio to offer a year-round, seven-year continuum of academic, social, and emotional support for students and their families from middle school through high school graduation and beyond.
Seeds of Literacy provides free, one-to-one tutoring in basic education and GED preparation to adults in Cuyahoga County.
The Trust for Public Land was established with a mission to preserve and protect open spaces for public enjoyment.  In order to accomplish its mission, TPL works with a variety of agencies, both public and private. Typically, TPL purchases land and holds it until a suitable long-term landholder, in most cases a governmental agency, is in position to take title.  
West Side Community House is a neighborhood settlement house that has served the residents of Cleveland's West Side since 1890. Its mission is to transform lives in the community with programs such as: Family-to-Family, Tapestry System of Care, a full array of Senior Services, and Youth Services Sisterhood program.