It has been a long time since I have been so overjoyed and ready to start each day. Mornings are different for me now because I have something important to motivate me. I know when I arrive at work I will see wonderful people who love their jobs, amazing patrons who are eager to learn and grow, and an incredible facility, host to immense knowledge, resources and love. I wake up in the morning knowing I get to spend my day at The Cleveland Public Library (CPL), and that makes all the difference in the world.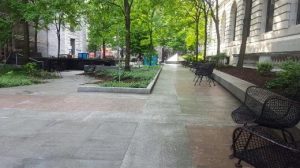 This summer, I will be piloting an oral history program at four of the branch libraries: South, Fleet, Hough, and Rice. Each branch has an incredibly interesting and diverse history, and I am so looking forward to interviewing past employees and significant community members about their lives, the library and the surrounding communities.
One of my goals for the project is to democratize history. History is always written by the people in power, and I want to change that. This pilot oral history program will be an opportunity for underserved and underdocumented populations to have a voice! These people both need and deserve to be heard, and I am fortunate to be able to offer them a platform to do that.
I will be working with a team of CPL employees representing multiple agencies, including the Center for Local and Global History and the Digital Public Library. When, not if, the pilot program succeeds, it will be implemented at the remaining twenty-three branches. The branches will then retain control of the oral histories and be able to create a solid community identity surrounding the working collection. I am truly excited to integrate my studies at Kent State with real, industry-relevant work experience. In this role, I am able to weave my love of people, history and stories together, and I could not be more grateful or enthusiastic.
Bobbie Szabo, a senior at Kent State University majoring in Integrative Studies, is placed at Cleveland Public Library (CPL).