Last month, we announced a grant supporting Cleveland Foundation Uptown Saturday Nights, a collaboration between University Circle, Inc., Case Western Reserve University and Roots of American Music (ROAM) to host a free live music series activating the Uptown District in University Circle on Saturday nights throughout late summer and early fall.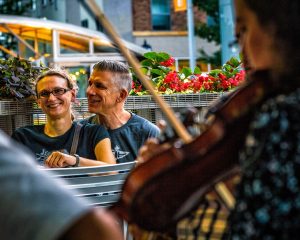 The series is now in full swing! Each Saturday evening from 7 p.m. until midnight, eight Uptown venues host free, live performances from local musicians. The music series celebrates the roots of American music – blues, jazz, gospel, hip hop, traditional country, folk, Americana, bluegrass, and zydeco, among others – so there's something for everyone. For those who want to sample everything, it's a quick stroll from one venue to another.
"As we work with our partners to infuse arts into every corner of our community, we can't think of a better place to create a new epicenter of live music than the Uptown District," said Ronn Richard, our president and CEO. "We hope the Cleveland Foundation Uptown Saturday Nights free concert series will expose Greater University Circle residents and visitors to musical artists they otherwise may not be able to access, connecting all through music and food in this world-class, mixed-use urban neighborhood."
Cleveland Foundation Uptown Saturday Nights continue each weekend through October 8, and culminate in the Cleveland Foundation Uptown RootsFest on Friday, October 14 and Saturday, October 15. RootsFest will be a two-day roots music festival featuring performances on Toby's Plaza in front of Cleveland's Museum of Contemporary Art (MOCA), a children's activities tent and family concerts.
RootsFest will also include documentary screenings at Cleveland Institute of Art's Cinematheque: "A Well Spent Life," a tribute to blues singer and guitarist Mance Lipscomb and "The Blues Accordin' to Lightnin' Hopkins," which chronicles the life of the legendary Texas guitarist and performer.
Join us tomorrow for this week's lineup of performances: