Earlier this month, we announced a $1.5 million grant to Case Western Reserve University to help launch the Cleveland Brain Health Initiative. This guest blog post by Dr. Paul Tesar of Case Western Reserve University School of Medicine takes a closer look at the vital work this grant will support.
Imagine finding a way to tell cells how to repair the damage that multiple sclerosis (MS) wreaks on the body.
Think of all the people we could help: the 2 million around the world who suffer from the disease—and all of those who love them.
Those are the people who come to mind when I think about the Cleveland Brain Health Initiative: the patients—those with MS, Alzheimer's disease, autism, and more—and their family and friends.
The National Institutes of Health estimates 100 million people in the U.S. suffer some form of brain disorder in their lifetimes. We also know that despite its modest size—about three pounds—the brain is enormously complex. It includes 86 billion neurons making more than 100 trillion connections.
No single lab or institution is going to unravel all of the brain's mysteries on its own. We absolutely must collaborate.
Now, with the Cleveland Brain Health Initiative, we are.
Hosted at Case Western Reserve University's School of Medicine, this project includes the Cleveland Clinic, the Louis Stokes Cleveland VA Medical Center, MetroHealth, and University Hospitals. Each institution has distinct strengths, and exceptionally talented individuals. Bring them all together, and the possibility of meaningful progress grows exponentially.
How do I know? That example at the beginning of this post – about the possibility of cells directing repair of MS damage—that's research from my laboratory. Once thought an impossibility, we're now closer than we ever could have imagined.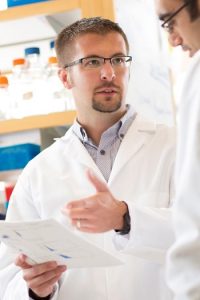 Two years ago, we published results of an internationally heralded study that identified capabilities to repair damaged brain cells and reverse paralysis in animal models of MS. With our clinical colleagues we are now advancing that work into clinical testing in patients, right here in Cleveland. Nearly two dozen people were involved in the original project, spread across four medical school departments, two other universities, and one company. To succeed, we needed the knowledge and skills of every single one of them.
In that project, we came together through informal networks. Forging and maintaining such relationships will always be essential. But with the Cleveland Brian Health Initiative, we will also have a formal structure to encourage interactions, institution-level commitments to cooperate, and—thanks to places like The Cleveland Foundation—new resources to bring to our efforts.
We took a huge step forward with the recent Cleveland Brain Health Initiative announcement. Count me among the many who are deeply grateful to everyone involved.
Paul Tesar is the Dr. Donald and Ruth Weber Goodman Professor of Innovative Therapeutics and an Associate Professor in the Department of Genetics and Genome Sciences at the Case Western Reserve University School of Medicine.