Last week we celebrated Cleveland Book Week, a series of book and literacy-themed events surrounding the 82nd annual Anisfield-Wolf Book Awards. Sept. 5-8, community events across Greater Cleveland honored this year's Anisfield-Wolf winners and celebrated all things literary in our community.
Sept. 5 – We kicked Book Week off with a launch celebration on Public Square, featuring free children's and young adult books from the Cleveland Kids' Book Bank, free ice cream from Mitchell's, and live music from Roots of American Music. The event showcased reading and literacy-focused nonprofit organizations serving Greater Clevelanders.
Also that day, residents enjoyed free admission – including two free screenings of Hidden Figures – at the Great Lakes Science Center and the "See Me" Zine Fest at MetroHealth!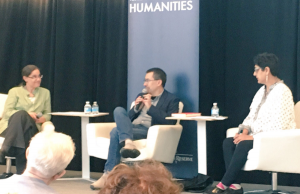 Sept. 6 – Anisfield-Wolf Book Awards 2017 fiction winner Peter Ho Davies discussed his groundbreaking book The Fortunes to a crowd at Case Western Reserve University's Baker-Nord Center.
Later that day, 2002 Anisfield-Wolf fiction winner Colson Whitehead, who won last year's Pulitzer Prize for The Underground Railroad, kicked off the William N. Skirball Writers Center Stage series at the Maltz Performing Arts Center.  
Sept. 7 – The 82nd annual Anisfield-Wolf Book Awards ceremony drew a record crowd of more than 1,200 to the State Theatre at Playhouse Square to celebrate this year's winners: Isabel Allende, Peter Ho Davies, Tyehimba Jess, Karan Mahajan and Margot Lee Shetterly. In case you missed it – or simply want to relive it – you can watch the entire ceremony here:
Sept. 8 – More than 750 Cleveland Metropolitan School District students joined 2017 Anisfield-Wolf nonfiction winner Margot Lee Shetterly at Cleveland State University to hear about Shetterly's research and writing of Hidden Figures. The event featured a performance of Hidden by the Tri-C Creative Arts Dance Academy, and every student in the audience received a copy of Shetterly's book. Watch the performance and author conversation here:
2
017 Anisfield-Wolf Lifetime Achievement winner Isabel Allende spoke to a sold-out crowd at The City Club of Cleveland over lunch. The novelist, feminist and philanthropist talked about her life, work and politics, and took questions from the audience.
The Professional Book Nerds podcast welcomed a live audience at the Cuyahoga County Public Library South Euclid-Lyndhurst branch to hear 2017 Anisfield-Wolf fiction winner Karan Mahajan talk about his novel The Association of Small Bombs, named by The New York Times as one of the ten best books of 2016.
Brews & Prose and Twelve Literary and Performative Arts hosted an evening of music, poetry and history at Karamu House to celebrate this year's Anisfield-Wolf poetry winner Tyehimba Jess. Another sold-out crowd flocked to this event to hear Jess perform poetry from his book Olio, accompanied by improvisation from local musicians. Watch the performance here: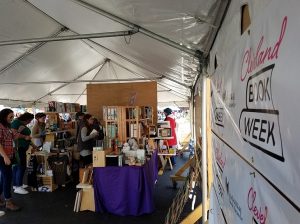 Sept. 9 – CBW wrapped up with weekend events including BOUND: Art Book + Zine Fair at MOCA Cleveland and The Cleveland Flea: Cleveland Book Week edition, celebrating readers, writers, the art of bookmaking and more!
Thank you to all of our Cleveland Book Week partners, and the many Greater Clevelanders who attended Cleveland Book Week events! Be the first to know about Cleveland Book Week 2018 events and tickets by signing up to receive email updates here.