In November 2018, we awarded a $149,800 grant to North Coast Community Homes Inc. supporting an international design accessibility challenge to stimulate innovative thinking around affordable and accessible living in Cleveland's Old Brooklyn neighborhood. In this guest blog, ZeroThreshold competition juror Sheena McGee talks about the importance of accessible design from her perspective as a professional designer and a mother of child with accessibility needs. The competition is currently accepting entries and the deadline to register is June 28, 2019. Learn more here.  
What does 'accessible design' mean to you? Can you imagine a world where we can all come together, regardless of how we move through and use space, without limitations? As a designer, I can, and I do every day. As a mother with a beautiful child who ambulates using a walker, I deeply understand the importance of accessibility.
Everything around us is by design. Our built environment was thought of, planned for, and constructed by design. Perhaps you understand the details of the building process? Maybe you have had a hand in your own home building, calling out materials or selecting colors. Or, maybe you just know you like something when it feels "right," but can't describe why. For better or worse, design has an impact on us daily. Winston Churchill stated it best when he said, "We shape our buildings; thereafter, they shape us."
"People have always reacted to and represented a desire for change by reviewing our mold of the past and looking to design for a different and better future."
How do you see the space you live in? This conversation goes well beyond what we call out as designers for finishes and accessorizing. It goes into the theory of "why" and "how" in design. The ZeroThreshold competition brings that conversation to present day, developing practical application of architecture and design.
Art movements reflecting theories and philosophies throughout history have occurred as a reaction to social and political happenings of their time. Artists used their art, architecture and design to help forge the path to a new world and a new way of thinking.  The Arts and Crafts Movement in the late 18th-19th century demonstrated this with British Social Reformists abhorring the ideals of the Ornate Victorian Era. People have always reacted to and represented a desire for change by reviewing our mold of the past and looking to design for a different and better future.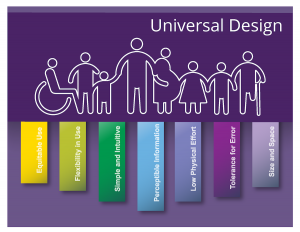 The Universal Design Movement started between the late 1940's and early 1950's, and the phrase 'Universal Design' was hailed by architect Ronald Mace, with his intent to create a built environment that maximizes the extent to which all people use it. The movement developed over the years and is currently incorporating concepts and strategies for physical and mental health and wellbeing. It wasn't until the Americans with Disabilities Act in 1990 that policy was created to reflect this concept. Once the 1991 ADA Standards for Accessible Design were in place, the beginning of accessibility in design became official. ADA has helped guide new construction with enforceable building codes, providing better accessibility in public spaces. However, while this policy created the minimum accessible law in public settings, it never hit the private sector of housing. 
It is time for this conversation to become louder and move into the home.
More than just a design competition, ZeroThreshold has a clear and intentional voice that is being used to call upon the architects, designers, planners, and builders to advocate for the end user: all people. My belief is that each life should be holistically represented in design; that the approach to all design creates beautiful and usable space for all, while "refusing to surrender form to function."
As a design professional, as a juror for the competition, and as a mom who has a child with accessibility needs, I invite you to learn more about this interesting and innovative event. I invite you to think about how you can become involved in moving us yet another step forward in history.