By Katie Brennan, Program Officer, Education, Cleveland Foundation
"The world around us is changing, and we are the change agents."
These words, from Hon. Judge Sherrie Miday, kicked off the Inaugural Sister Cities Conference hosted by Cleveland Foundation nonprofit partner Global Cleveland on May 1-3, 2019. She was right—the world around us is changing. We live in an ever-globalizing society in which we can call overseas as easily as calling home; journeys that used to take months now take only a matter of hours. Given this context, our international relationships matter more now than ever before.
Cleveland already has a fertile landscape on which to grow these bonds. Thanks to the work of the City of Cleveland, Cleveland has sister city relationships with 23 cities* around the globe, spanning 13 time zones, 5 continents, 19 languages, and dozens of dialects. We continued expanding this network as, on May 2, we named our 23rd sister city: Beit She'an, Israel.  
*Cleveland's Sister Cities include:
Alexandria, Egypt
Bahir Dar, Ethiopia
Bangalore, India
Beit She'an, Israel
Brasov, Romania
Bratislava, Slovakia
Cleveland, United Kingdom
Conakry, Guinea
Fier, Albania
Gdansk, Poland
Heidenheim, Germany
Holon, Israel
Ibadan, Nigeria
Klaipeda, Lithuania
Lima, Peru
Ljubljana, Slovenia
Miskolc, Hungary
Rouen, France
Segundo Montes, El Salvador
Taipei City, Taiwan
Vicenza, Italy
Volgograd, Russia
West Mayo, Ireland
Recognizing the need to build and strengthen partnerships between local ethnic communities and with our brothers and sisters overseas in order to help push Cleveland further onto the international stage, Global Cleveland convened a conference planning committee consisting of Global Cleveland staff, Colleen Corrigan Day (Mayo Society of Greater Cleveland), Mark Owens (Cleveland Irish Network), and myself. Colleen, Mark, and I represented the Irish community, as Cleveland's connection to our sister city/county in West Mayo, Ireland—as well as throughout the rest of the island—has been very strong since its inception.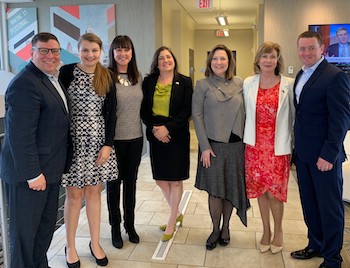 We aimed to host a conference that was free and open to the public, touching on issues that are prominent in Cleveland as well as in our sister cities around the world. On Day 1, conference attendees convened at Cleveland Public Library for the opening reception, with remarks from Joe Cimperman (Global Cleveland), Felton Thomas (Cleveland Public Library), Chief Valarie McCall (City of Cleveland), Dr. Hiroyuki Fujita (Honorary Consul of Japan in Cleveland; Cleveland Foundation and Global Cleveland board member), and Judge Sherrie Miday (Cuyahoga County Court of Common Pleas).  
Day two of the conference opened with a celebration of the naming of Beit She'an, Israel, as our 23rd sister city. Mayor Frank G. Jackson, the Jewish Federation of Cleveland, and hundreds of community members were in attendance for this exciting moment. Throughout the rest of the day, we held panels covering important community topics such as education, economic development, interfaith relations, immigration, and youth issues.
While all the conversations were impactful, I would like to highlight two in particular. The first relates to our sister city in Bahir Dar, Ethiopia. Mr. Kibret Abebe Tuffa opened the first private ambulance service in Ethiopia after witnessing the unnecessary loss of life due to the lack of such a service. He visited Cleveland for this conference to speak to our Emergency Medical Service (EMS) personnel to learn how to better expand and improve his own services with the goal of saving many more lives. Here, we see a change agent at work.
The world around us continues to change, and moving forward, youth will be at the forefront of such change. Karson Baldwin (University School sophomore), Israel Kambomba (Thomas Jefferson International Newcomers Academy sophomore) and Chloe Friedland (Shaker Heights High School junior) organized an international video conference with high school students from our sister cities in Albania, France, Nigeria, and Romania to discuss issues facing youth around the world today. It was truly inspiring to see the energy and passion from young people—our future leaders—sharing their experiences and broadening their cities' horizons.
We wrapped up the second day with a Sister Cities International Soccer Tournament at Saint Ignatius High School. Teams representing Albania, Ireland, Lithuania, Nigeria, and Peru partook in a friendly competition, ending in a shootout between Ireland and Nigeria. Ultimately, Ireland won the title of first Sister Cities International Soccer Tournament champions.
The conference wrapped up on the morning of May 3 with a naturalization ceremony, where we welcomed about 30 new Americans to our community. The world—and city—around us are changing, and we as the Cleveland community are acting as the change agents. Stay tuned as we announce the dates for next year's Sister Cities Conference!