Thank You for Building Common Ground with Us! 
On June 30, thousands of Greater Clevelanders gathered at more than 100 events across our region to converse, connect, and build community. We are grateful to all who attended Common Ground events, along with the hosts who gave their time to build and convene these gatherings, for joining in and making their voices heard. Now, we are asking all participants to share a little feedback about their experience to help Common Ground learn and grow. 
By sharing your experience with us, you will provide valuable insights about the Common Ground event you participated in, the outcomes of the conversation, and a little bit about yourself. All responses will be kept confidential, and data will be reported in summary form only, with no personally identifiable data included. This survey should only require about 5 minutes to complete. 
We're also excited to share opportunities to continue the #CG2019 conversation and take action on the ideas sparked at this year's Common Ground gatherings.
Meet Up ➡ Plan ➡ Take Action with ioby and Neighbor Up Summer Action Events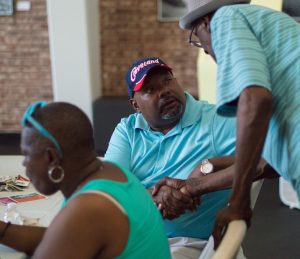 All kinds of wonderful connections happen at Common Ground conversations, and we have learned that ideas come up that have the potential to bring changes large and small to our region's neighborhoods. Did your gathering generate a great idea? Do you want to take action in your community? Join our Common Ground partners from Neighbor Up and ioby for their post-Common Ground gatherings, meant to help community members continue the conversation and take action. There are multiple ways to get assistance with your community project: 
If you live in Cleveland or East Cleveland, you can work with Neighbor Up to gain access to Neighborhood Connections Common Ground Action Grants, as well as training to help you apply for their Neighborhood Grants. The neighborhood grant process takes place in August.
If you live outside of Cleveland, ioby provides training to help you crowdfund on their platform to make your project happen, and Common Ground offers immediate match dollars for every project, doubling the funds you are able to raise. 

Summer 2019 Action Planning Calendar
Do you have an idea? Attend a happy hour, ice cream social, or family fun night to talk about your ideas from 5:30-7:30 p.m. on the following dates:
Aug. 14 | Happy Hour at the Happy Dog  | 5801 Detroit Ave.
Aug. 21 | Ice Cream Social @ Buckeye Green Infrastructure | Buckeye & Shaker Blvd.
Aug. 28 | Family Fun Night @ MidTown Tech Hive | 6815 Euclid Ave.
Are you ready to make a plan? Come to an action clinic and get help organizing your community building project from 6-8 p.m. on the following dates:
July 2 | Neighborhood Connections at the Agora  | 5000 Euclid Ave. #310
July 9 | Parma-Snow Library | 2121 Snow Rd., Parma
July 16 | HIVE Lakeland Community College | H Bldg., 7700 Clocktower Dr., Kirtland
Aug. 6 | Neighborhood Connections at the Agora | 5000 Euclid Ave. #310. 
Do you need funding? Join us for a workshop about grants and crowdfunding your community project:
July 10 | 4-6 p.m. | Mt. Pleasant Library  | 14000 Kinsman Rd.
July 18 | 6-8 p.m. | West 78th Street Studios | 1300 W. 78th St.
July 26 |4-6 p.m. | East Cleveland Public Library | 14101 Euclid Ave., East Cleveland
Aug. 3 | 10:30 a.m.-12:30 p.m. | Carnegie West Library | 1900 Fulton Rd. 
Aug. 9 | *Neighbor Up Action Grant Application Deadline*
Want more information? You can also text CG2019 to 474747 for continued updates and details about the Common Ground 2019 Action Planning Calendar.