Our #SummerOfPurpose blog series follows this year's Cleveland Foundation Summer Interns as they spend 11 weeks working with Cleveland-area nonprofit and public sector organizations. In today's blog we hear from Hakmat Manaa, who spent her summer working at the May Dugan Center where she provided communications and programmatic support.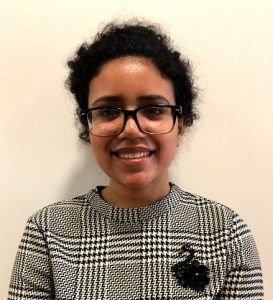 Name: Hakmat Manaa 
College: Cleveland State University 
Hometown: Lakewood, OH
Internship Host Site: May Dugan Center 
What has been the most valuable aspect of your internship experience?
The most valuable aspect of my internship experience has definitely been working with May Dugan's Senior Health & Wellness program. It was by chance that I was given the opportunity to work more closely with the seniors. Preparing their meals and having conversations with them gave me an insight into the lives of those who I would have never considered my life crossing paths with. The program aims to promote healthy aging, especially when Cleveland is soon to have more people over the age of 60 than people younger than 20. As the coordinator of the program, Vanessa Jackson, told me: "No one teaches you how to age. This program, to many of the seniors, is a place they can go to feel safe, welcomed, and cared for."
What has been the most challenging aspect of your internship experience?
The most challenging aspect of the internship has been learning to pace myself with my work. Learning how to prioritize and organize my work has been something that I am working towards.
When you're not working, what do you enjoy doing around Cleveland?
Cleveland has some pretty great food. I live in Lakewood, so a great restaurant is always around the corner. It never gets old. 
What are your career goals after college?
After earning my bachelor's degree, I'd like to go to law school. I'm really interested in immigration law, so the goal one day is to become an immigration attorney. 
How has this internship helped you grow professionally? 
This internship has expanded my knowledge regarding the nonprofit field. An invaluable amount of information and experience has been attained over an exceptionally short amount of time.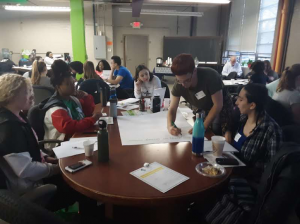 How has this internship helped you grow personally? 
My experience with this internship, and especially with the cohort, has helped me grow personally in building connections and friendships with people from all walks of life. Learning more about the Cleveland community and where the cohort is from has provided me with insight about just how diverse and motivated young Clevelanders really are. It was an inspiring moment walking into orientation day and the room slowly but surely filling in with mostly women.  
Where would you take a friend who is visiting Cleveland for the first time?
10:00 Breakfast at The Place to Be–Lakewood, Ohio (I'm going to pretend it's still CLE considering the area code is the same)
11:00 Walk in the Park–Edgewater Park
12:00 Cleveland Museum of Art
1:00 Lunch at Melt Bar & Grilled–Lakewood, Ohio
2:00 The Botanical Gardens
3:00 The West Side Market
4:00 Walk in the Park–Lakewood Park Solstice steps
What advice would you give to someone considering applying for the Cleveland Foundation Summer Internship program?
As Nike says, "just do it!"
In all seriousness, I think this internship program showcases the best of Cleveland. It's easy to be aware of all the for-profit industries with their lights and logos and insurmountable amount of money–but the nonprofit sector is perhaps where you find some of the most dedicated and hard-working members of our society. This internship program highlights the function and struggles of a nonprofit organization. It's an immensely rewarding experience.