Our #SummerOfPurpose blog series follows this year's Cleveland Foundation Summer Interns as they spend 11 weeks working with Cleveland-area nonprofit and public sector organizations. In today's blog we hear from AmakhutMaati Tyehimba, who spent her summer working at Manufacturing Works, where she assisted with marketing, event planning, fundraising, volunteer recruitment, training and other general operations.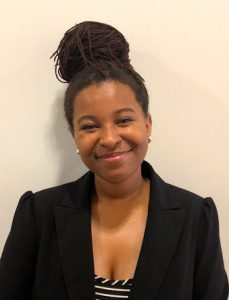 Name: AmakhutMaati Tyehimba
College: Virginia Commonwealth University
Hometown: Cleveland, Ohio
Internship Host Site: Manufacturing Works
Why did you initially decide to participate in this internship program?
I wanted to learn more about nonprofits, expand my professional experience and learn professional development. I thought the Cleveland Foundation exceed my expectations of what I wanted in an internship. It definitely showed me a different side of Cleveland, one that made me proud of Cleveland. I now have such a huge networking pool of successful, intelligent and some of the most determined people I have ever met.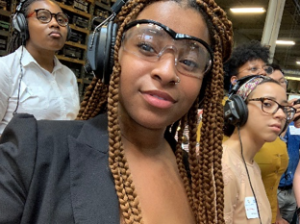 What has been the most valuable aspect of your internship experience?
I think the open communication I had with my supervisors, plus the great relationship, has been the most valuable. I am sure I could tell them, ask them or joke with them about anything. We often ate lunches together and we went out to dinner for my last day! Through this relationship my goals and aspirations became theirs. They provided me with so many connections to organizations in my career path that I now have a better understanding of my next steps in life.
What has been the most challenging aspect of your internship experience?
The most changeling aspect for me was taking the transit system every day. It was a 2-hour commute and that's tiring and can be limiting. I think the most important skill I learned was patience and that it's ok to ask for help.
When you're not working, what do you enjoy doing around Cleveland?
I am asleep, in my bed. No, I really didn't do much this summer; If there was one regret, that would be it. I did enjoy the Cleveland Museum of Arts a couple of times – it's my favorite place.
What are your career goals after college?
I plan to join Peace Corps or Americorps. I really want to work in community and youth development.
How has this internship helped you grow professionally? 
Professionally, I have learned so much – from emailing and managing simple administrative work to sitting at tables brainstorming programs and ideas. It has taught me that every voice is valued, everyone needs a seat at the table and networking and collaborating is key to success.
What's your favorite public space in Cleveland? 
The Cleveland Museum Of Art! I love that place. Each time I visit, I feel like I learn something new. Art is the way to my heart <3.
What advice would you give to someone considering applying for the Cleveland Foundation Summer Internship program?
Just apply already! You miss all the shots you don't take. Come ready to not only work, but to be inspired.