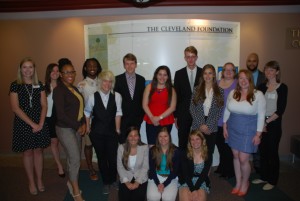 The summer of 2015 will be the 16th year of the Cleveland Foundation Summer Internship program. The program is based on a simple, yet effective recipe: connect undergraduate and graduate students with meaningful work-related projects in Cleveland-area nonprofit organizations and governmental agencies.
We are looking for projects that speak to the challenges and opportunities we face as a city. This project should be important to your organization's mission and provide a meaningful work experience for the intern. During the course of the internship, we will provide the funding to cover the intern's salary. We also help out by recruiting and selecting applicants. Sounds like a pretty good deal, right?
If you can answer 'Yes' to the questions below, please consider applying to be a host site organization for the 2015 Cleveland Foundation Summer Internship Program!
Could your organization use some increased staff capacity for the summer of 2015 (June – August, 11 weeks of full-time service)?
Do you have one to two important short-term projects for the intern to conduct/execute over the summer?
Do you have the time and interest in helping to guide, nurture and develop talent?
The deadline to apply is Monday November 3rd.
Organizations that have hosted an intern within the last two years are not eligible to apply.
For more information and to apply, visit here.