Cleveland's sports teams aren't the only groups bringing home national titles this year. Last week, the Cleveland Metroparks won the 2016 National Gold Medal for Excellence in Park and Recreation Management. The award is among the most prestigious awards for parks and recreation agencies nationwide, and 2016 marks the fourth Gold Medal Award win for the Cleveland Metroparks. We're grateful to the Metroparks for providing top-quality outdoor education and recreation opportunities for our community, and we're proud of our long partnership, which stretches back nearly a century.
In 1919, a Cleveland Foundation-commissioned study of Clevelanders' leisure activities recommended the expansion of public recreational opportunities. This recommendation sparked an effort to acquire outlying parkland for what would become the beloved "Emerald Necklace."  
Our partnership with the Metroparks continues today. In recent years, we've worked with the Cleveland Metroparks to enhance public access to the lakefront for Greater Cleveland residents. In 2013, the City of Cleveland's six lakefront parks joined the Cleveland Metroparks system, adding an important new strand to the Emerald Necklace. With a startup grant from the foundation, the Metroparks launched an Urban Beach Ambassadors program, a team of volunteers at Edgewater and Euclid/Villa Angela parks to help improve visitors' enjoyment of the lakefront.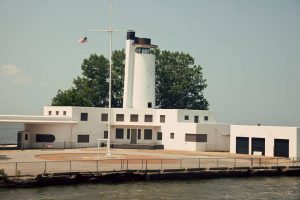 In 2014, our grant dollars helped the park system develop plans to renovate the historic Coast Guard station at Wendy Park. Earlier this year, we announced a $200,000 grant supporting the first phase of the renovations, which will restore the exterior and grounds of the station in alignment with the National Register of Historic Places standards and enhance public access to the lakefront by providing additional educational and recreational programming at the station.
The Cleveland Metroparks was also a key partner in the creation of the Cleveland Foundation Centennial Trail. Earlier this year, the Cleveland Metroparks was awarded a nearly $8 million federal transportation grant to build more than four miles of bike and pedestrian trails, linking the Cleveland Foundation Centennial Trail to the Erie Canal Towpath Trail and Cleveland Lakefront Bikeway. Cleveland Foundation staff worked with the Metroparks and the City of Cleveland in the process of applying for this very competitive grant. The new trails should be complete by 2020, realizing the original vision behind our $5 million grant funding the Cleveland Foundation Centennial Trail in 2014.
These are just a few highlights from our long history of collaboration with the Cleveland Metroparks. As we look forward to continuing our work with the park system, we congratulate the Cleveland Metroparks on this well-deserved honor.