Our #SummerOfPurpose blog series follows this year's Cleveland Foundation Summer Interns as they spend 11 weeks working with Cleveland-area nonprofit and public sector organizations. In today's blog we hear from Cristina Burris Proano, who spent her summer working at MAGNET where she supported the scaling of the Early College, Early Career (ECEC) program throughout Cleveland and Northeast Ohio. 
Name: Cristina Burris Proano
College: Cleveland State University 
Hometown: From Ecuador to North Royalton
Internship Host Site: MAGNET
Why did you initially decide to participate in this internship program?
I decided to participate in the summer internship program because I thought it was a great opportunity to know more about the Cleveland community. I am originally from Ecuador and lived for many years in Peru before coming to Cleveland in 2017. I have always felt passionate about my community, so I thought that through this internship, I could gain a further understanding of the goals, dreams, challenges and needs that the city of Cleveland has.
What has been the most valuable aspect of your internship experience?
The most important aspect of my internship has been the opportunity to meet valuable people who have not only helped me to grow professionally but also as a person. Through the summer internship, I have been able to meet people who share with me the same commitment to change and improvement of our community. In addition, this internship has allowed me to learn more about nonprofit organizations and their work in different areas of society. Finally, in the past eleven weeks, I have met leaders who have shared the different initiatives their organizations are working on to improve the Cleveland community by providing more people with access to opportunities of growth and development. 
What has been the most challenging aspect of your internship experience?
The most challenging aspect of my internship was managing a project by myself. I think this was challenging because I had to self-assess my own performance and level of my work in order to improve and achieve the projects' goals.
What are your career goals after college?
After I finish my undergraduate degree, I would like to attend graduate school for a program related to social justice, nonprofit and community, or multicultural education. After I finish my graduate studies, I would like to work in a nonprofit organization in the area of education or youth services.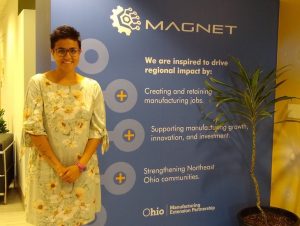 How has this internship helped you grow professionally?
This internship has allowed me to grow professionally because I have been able to face new situations in the workplace. In these situations, I was required to develop certain skills such as collaboration, effective communication, and problem-solving. For example, during the first weeks of my internship, I had to coordinate and collaborate with a coworker to create a professional development session. Through this experience, I was able to learn about the importance of effective communication and setting clear expectations. In addition, this experience developed my problem-solving abilities with planning my company's civic immersion activity,  and I also practiced my public speaking skills addressing the audience and explaining the planned activities.
How has this internship helped you grow personally? 
This internship has helped me to grow as a person because I have been exposed to a diversity of realities and backgrounds that have opened my mind and have made me aware of the role I want to have in my community. By being a team member of the Early College Early Career program at MAGNET, I was able to gain further understanding of the barriers that affect our community, and the ways in which we can help and be advocates for change. This knowledge helped me to grow as a person because it increased my responsiveness and commitment to my surrounding community. In addition, working in a nonprofit organization allowed me to connect with my sense of purpose in life, which is providing support to, and collaborating with, people and institutions to create more equity in our society. Finally, through this internship, I was able to meet amazing people that taught me valuable lessons that I will always treasure in my heart.
Where would you take a friend who is visiting Cleveland for the first time?
One of the places I would take someone who is visiting Cleveland is the Metroparks. I love it there because you can be in touch with nature; if you are lucky enough, you can see squirrels, chipmunks, deer, turkeys, and sometimes even raccoons. I find this fascinating because I grew up in the city – I was not accustomed to seeing these types of animals every time I went to a park until I came to Cleveland. Another place that I would invite a visitor to would be the Cleveland Museum of Art. I love this museum because, through its different sections, a person can learn about the different periods in history. In addition, they have a medieval section that transports you to that time. For lunch, I would take my friend to Lakewood. This is my favorite area to go to lunch or dinner because it has a variety of restaurants to select from and its pedestrian-friendly so you can have a walk after your meal.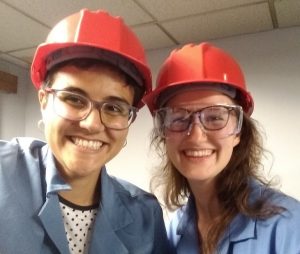 What advice would you give to someone considering applying for the Cleveland Foundation Summer Internship?
The piece of advice I would give to someone considering applying to the Cleveland Foundation Summer Internship Program is: Go for it, because it's a once-in-a-lifetime experience that will have a meaningful personal and professional impact in your lives. Personally, this program allowed me to meet incredible people who have a genuine interest in serving and improving the community. In addition, I was able to make new friends and learn from their different backgrounds. Professionally, this program provided excellent networking that allowed me to meet and learn from different professionals that work in the nonprofit sector.